Black Lung Benefits Act final rule aims to protect coal miners' health
Posted April 28, 2016
The U.S. Department of Labor's Office of Workers' Compensation Programs issued a final rule to revise the regulations implementing the Black Lung Benefits Act. Under the rule miners will be provided with full access to their health information, coal mine companies will be required to pay all disability or survivor's benefits due in a claim before modification can challenge the award, and the DOL will be allowed to participate in the adjunction process when a coal operator ends its involvement.
The rule will provide miners with full access to information about their health, by requiring all parties to exchange any medical information that they develop in connection with a claim, even if they do not intend to submit the information into evidence. Parties who fail to share any medical data they develop about the miner are subject to sanctions.
The final rule also reinforces coal mine companies' obligations to pay benefits under existing orders while the modification proceedings to challenge orders are underway. The rule allows coal companies one year from the last payment of benefits to seek reconsideration of an effective order awarding disability or survivor's benefits. The final rule requires the operator to pay before they can challenge the award through the act's modification procedures.
Additionally, the rule makes several changes to existing regulations. For miners who submit multiple physicians' reports for the same claim, the rule clarifies that those supplemental reports are a continuation of the physician's earlier report for the purpose of department's evidence-limiting rules. The rule also includes a change allowing the DOL to participate fully in the adjudication process when a liable coal operator stops its participation due to adverse financial developments, such as bankruptcy or insolvency.
---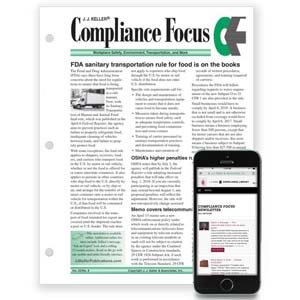 J. J. Keller's J. J. Keller's Compliance Focus helps you stay on top of critical regulatory developments from: DOT, OSHA, EPA, DOL, MSHA, EEOC, DHS and other agencies.
---
J. J. Keller's FREE Workplace SafetyClicks™ email newsletter brings quick-read workplace safety and compliance news right to your email box.