Are emails eating up worker productivity?
Posted April 26, 2016
If you are wondering where workers time is being spent, perhaps an evaluation of how emails are managed is in order.
According to research by Robert Half, chief financial officers (CFOs) said 17 percent of time they spend on work email is wasted.
CFOs were also asked, "What is the primary time-waster when it comes to email?" Their responses:
Spam — 39 percent
Being copied on irrelevant messages — 27 percent
Receiving messages that could be better delivered another way — 19 percent
Long, rambling messages — 14 percent
Don't know — 1 percent
Robert Half offers six email etiquette tips for businesses to consider:
Be cautious about who you copy. Does the person you're copying need to review the message? Is action required of them? Use "Reply All" as a last resort. Don't waste your time or the time of recipients who don't need to read the email message.
Go on a word diet. Efficiency and brevity should drive your approach to sending email. As often as possible, keep it under two paragraphs. Longer emails take too long to digest, and you could lose your audience.
Save the detective work for Sherlock. No one likes to read through a long email thread to find out what the sender wants and why they are being copied. Summarize the issue and what is needed at the top — and provide the string as background.
Send less, sift less. Resist the urge to respond immediately, especially if it's a request that may resolve itself without your input. Consider "email-free Fridays" for internal communication, of course allowing for email from outside vendors and customers.
Make the subject line count. Use a subject line that's direct and to the point. Do you need a reply? Try using "RSVP" within the first three words. Otherwise, let recipients know immediately what action is required (e.g., "For your review" or "Meeting rescheduled") so they get the gist and prioritize their response accordingly.
Watch your tone. Email is the equivalent of a hard-copy business memo. It's an official record and should be written with the same professionalism. Check spelling and grammar, and read it aloud to yourself before you click send. The few extra minutes for review will give you another chance to fine-tune the message's content and tone.
---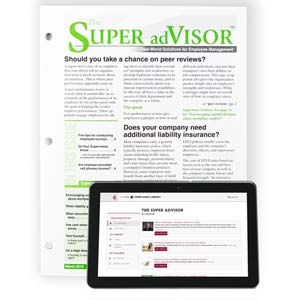 The SUPER adVISOR™ newsletter contains four pages dedicated to the HR manager and a corresponding four-page pullout dedicated to the needs of supervisors.
---
J. J. Keller's FREE HRClicks™ email newsletter brings quick-read human resources-related news right to your email inbox.