President's budget unveiled
Posted March 17, 2017
On March 16, the White House Office of Management and Budget released its "America First, A Budget Blueprint to Make America Great Again." In remarks to the press, OMB Director Mick Mulvaney said the White House will increase spending on the military and defense and reduce spending in other areas to offset that spending. "In fact, you'll see reductions in many agencies as he [President Trump] tries to shrink the role of government, drive efficiencies, go after waste, duplicative programs, those types of things." EPA is one agency that expects to see a drastic reduction in spending.
Reacting to a question on the budget cuts to the EPA, which could slash the agency's funding by more than $2 billion, Mulvaney said he believed "the core functions of the EPA can be satisfied with this budget." However, the OMB Director disagreed with reports of job losses at the agency, which some are saying could number more than 3,000, saying that "ultimately it will fall to [EPA Administrator] Mr. Pruitt on how to implement those topline numbers."
Highlights from the Blueprint
Department of Labor/OSHA: The budget would abolish OSHA's Susan Harwood training grants program. According to the Blueprint, the budget "eliminates the Occupational Safety and Health Administration's unproven training grants, yielding savings of almost $11 million from the 2017 annualized CR level and focusing the agency on its central work of keeping workers safe on the job."
EPA: The budget increases spending for critical drinking water infrastructure, but discontinues funding for the Clean Power Plan, international climate change programs, climate change research, and related efforts. Plus, the budget "reorients EPA's air program to protect the air we breathe without unduly burdening the American economy."
The budget reduces the Superfund budget and emphasizes the use of existing settlement funds to clean up hazardous waste sites.
Much of the FY2018 budget delegates environmental responsibilities to the states and eliminates funding for several regional efforts such as the Great Lakes Restoration Initiative and the Chesapeake Bay restoration. EPA's enforcement budget will concentrate EPA enforcement on federal programs that are not delegated to the states.
In the end, the budget eliminates more than 50 EPA programs, including Energy Star, Targeted Airshed Grants, the Endocrine Disruptor Screening Program, and infrastructure assistance to Alaska Native Villages and the Mexico Border.
Department of Energy: The FY2018 budget would provide $120 million to restart licensing activities for Yucca Mountain nuclear waste repository and the nation's interim storage program.
FY2018 budget overview by major agency


2018 Request Less 2017 enacted

2017

2018 (request)

Dollars (in billions)

Percent

Cabinet Departments

Agriculture

22.6

17.9

–4.7

–20.7%

Commerce

9.2

7.8

–1.5

–15.7%

Defense

521.7

574.0

+52.3

+10.0%

Education

68.2

59.0

–9.2

–13.5%

Energy

29.7

28.0

–1.7

–5.6%

Health and Human Services

77.7

65.1

–12.6

–16.2%

Homeland Security

41.3

44.1

+2.8

+6.8%

Housing and Urban Development

46.9

40.7

–6.2

–13.2%

Interior

13.2

11.6

–1.5

–11.7%

Justice

28.8

27.7

–1.1

–3.8%

Labor

12.2

9.6

–2.5

–20.7%

State, U.S. Agency for International Development and Treasury International Programs

38.0

27.1

–10.9

–28.7%

Transportation

18.6

16.2

–2.4

–12.7%

Treasury

11.7

11.2

–0.5

–4.4%

Veterans Affairs

74.5

78.9

+4.4

+5.9%

Major Agencies

Corps of Engineers

6.0

5.0

–1.0

–16.3%

Environmental Protection Agency

8.2

5.7

–2.6

–31.4%

General Services Administration

0.3

0.5

+0.3

N/A

National Aeronautics and Space Administration

19.2

19.1

–0.2

–0.8%

Small Business Administration

0.9

0.8

-

–5.0%

Social Security Administration

9.3

9.3

-

+0.2%

Other Agencies

29.4

26.5

–2.9

–9.8%

Subtotal, Discretionary Base Budget Authority

1,068.1

1,065.4

–2.7

–0.3%
---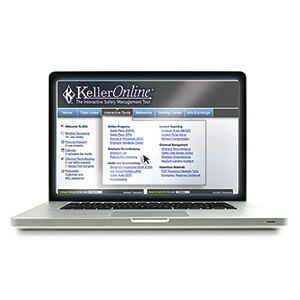 The KellerOnline® safety management tool is used by 19,000+ safety pros to help reduce accident rates and lower workers' comp costs.
---
J. J. Keller's FREE Workplace SafetyClicks™ email newsletter brings quick-read workplace safety and compliance news right to your email box.