Wyoming trucking company shutdown by FMCSA
Posted March 28, 2016
The Federal Motor Carrier Safety Administration (FMCSA) announced that it has ordered a Wyoming-based trucking company to immediately cease all intrastate and interstate operations after a federal investigation found the carrier to pose an imminent hazard to public safety. The trucking company was served the federal order on March 11, 2016.
On March 8, 2016, the company was subject to a federal compliance review investigation. FMCSA safety investigators found the company owner and operator to be in violation of multiple federal safety regulations including:
Failing to conduct pre-employment background checks on drivers;
Failing to ensure drivers were qualified before dispatching them in commercial operations;
Failing to properly monitor drivers to ensure compliance with hours-of-service requirements;
Failing to conduct random drug and alcohol tests on drivers;
Using a driver who tested positive for controlled substance; and
Failing to ensure that its vehicles were regularly inspected, maintained and repaired, and that they met minimum safety standards.
In addition, federal investigators found that the company had continued to allow the owner and operator to drive a commercial vehicle although he did not possess a valid commercial driver's license (CDL), making him subject to a lifetime CDL disqualification.
The trucking company's continued use of unsafe vehicles and its failure to adequately oversee its drivers to ensure compliance with federal safety regulations substantially increases the likelihood of serious harm to its drivers and to the motoring public, according to FMCSA.
Violating an imminent hazard out-of-service order may result in a penalty of up to $25,000, operating without operating authority may result in a fine of not less than $10,000, and operating without a USDOT number may result in a civil penalty of up to $16,000. A violation of this order may also result in a criminal penalty, including a fine of up to $25,000 and imprisonment not to exceed one year.
---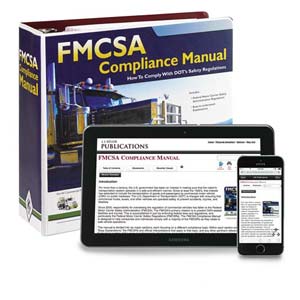 J. J. Keller's FMCSA Compliance Manual is the perfect resource for anyone managing or operating commercial motor vehicles (CMVs).
---
J. J. Keller's FREE Transportation SafetyClicks™ email newsletter brings quick-read safety and compliance news right to your email box.