Survey finds gap in leadership competency
Posted March 10, 2016
Leadership stands out as a business competency critical for success, executives from across business units told the Society for Human Resource Management (SHRM) in a new survey. But a significant number of executives reported that many employees and candidates lack this competency.
Thirty-nine percent of those responding to SHRM's Using Competencies to Achieve Business Success: The Executive Perspective survey reported a deficiency in the Leadership and Navigation competency in their talent pools.
"Over the years, many business leaders have openly voiced their concerns about a leadership gap in their organizations," said Joe Jones, SHRM's director of HR competencies. "The survey results provide further evidence that business executives are seeing a disconnect: Competencies — particularly the Leadership and Navigation competency — are critical for the overall success of business units, yet many employees and job candidates lack them."
A leadership gap also was identified in the Business and Human Capital Challenges report released late last year by SHRM. The report found that both HR professionals and non-HR C-suite executives said that developing the next generation of leaders was considered the top human capital challenge over the coming decade.
"Because competence in Leadership and Navigation impacts the entire organization, HR will not only have to work on developing this competency within specific business units, including HR, but will need to develop organization-wide leadership development strategies and initiatives," Jones said. "This requires thinking of leadership from more of a systems perspective."
Leadership and Navigation is one of nine competencies identified in the SHRM Competency Model created for the HR profession. SHRM describes competencies as individual characteristics — knowledge, skills, abilities, self-image, traits, mindsets, feelings, and ways of thinking — that allow individuals to be successful in their roles.
SHRM says a well-defined set of competencies aligned with business strategy is useful for businesses to differentiate good from poor performers and for individuals to assess their career readiness. Besides Leadership and Navigation, competencies include Communication, Relationship Management, Business Acumen, and Ethical Practice.
Other survey findings included:
Ninety-three percent of the executives surveyed said competencies are important for the overall success of their business units.
All of the respondents in customer service said they use competencies for business and talent management. Many of the other business units agreed: research and development (90 percent), information technology (84 percent), and purchasing and procurement (80 percent).
Competencies and HR
Business unit executives said the use of competencies is almost equally as important for HR departments as it is for their own business units. Thirty-seven percent cited Leadership and Navigation as the most lacking competency in the HR talent pool.
Ten years from now, respondents said, HR expertise (cited by 47 percent), Communication (44 percent) and Relationship Management (37 percent) will continue to be the top three competencies critical to HR professionals.
Methodology
The survey of 510 non-HR business unit executives in organizations with 100 or more employees was conducted in December 2015 and January 2016. It has a margin of error of 5 percentage points.
---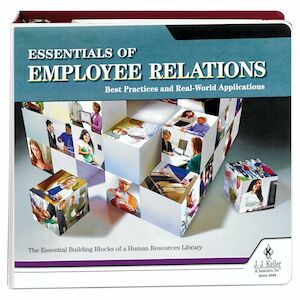 J. J. Keller's Essentials of Employee Relations Manual comprehensive guide is an ideal resource for anyone with responsibilities related to employee relations, including HR managers and supervisors, recruiters and more.
---
J. J. Keller's FREE HRClicks™ email newsletter brings quick-read human resources-related news right to your email inbox.