PHMSA puts finishing touches on new reverse logistics rule
Posted March 29, 2016
Retailers returning hazardous materials to manufacturers will be seeing new requirements for complying with the return process.
The Pipeline and Hazardous Materials Safety Administration (PHMSA) says it will soon be adopting regulatory amendments pertaining to the reverse logistics shipments of certain hazardous materials from a retailer back to a distribution facility.
The new final rule (identified as docket HM-253) will revise the Hazardous Materials Regulations (HMR) to include a definition of reverse logistics, and will also provide requirements and exceptions for hazardous materials that fall within the scope of the definition.
HM-253 will create a new section in the HMR with specific requirements applying to reverse logistics shipments (return shipments from retail stores to a product's manufacturer, supplier, or distribution facility) by highway transportation.
The agency says the new requirements will benefit retail operators by establishing a regulatory framework targeted at a distinct and limited segment of the supply chain that is associated with retail stores.
The new definition of "reverse logistics" means the process of offering for transport or transporting by motor vehicle goods from a retail store for return to its manufacturer, supplier, or distribution facility for the purpose of capturing value (e.g., to receive manufacturer's credit), recall, replacement, recycling, or similar reason.
Changes will apply to certain consumer products found in a number of hazard classes and divisions. They include:
Class 3 (flammable);
Class 8 (corrosive);
Class 9 (miscellaneous), except lithium batteries;
Division 1.4S (explosive);
Division 2.1 (flammable gas);
Division 2.2 (non-flammable gas);
Division 4.1 (flammable solid), excluding self-reactive materials;
Division 5.1 (oxidizer); and
Division 6.1 (poison), excluding poison inhalation materials.
More information is available on the PHMSA website.
This article was written by Randy Skoog of J. J. Keller & Associates, Inc.
---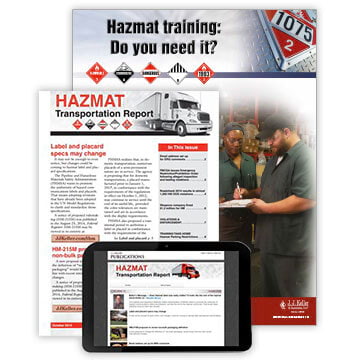 J. J. Keller's HAZMAT Transportation Report helps you track ever-changing Hazmat Regulations affecting Hazmat shippers, handlers, and transporters.
---
J. J. Keller's FREE Transportation SafetyClicks™ email newsletter brings quick-read safety and compliance news right to your email box.