OSHA requests comments on PPE and walking surfaces standards
Posted March 4, 2016
OSHA is soliciting public comments concerning its proposal to extend the Office of Management and Budget's (OMB) approval of the information collection requirements (ICR) contained in the Walking-Working Surfaces standard for General Industry (29 CFR Part 1910, Subpart D) and in the Personal Protective Equipment (PPE) standard for General Industry (29 CFR Part 1910, Subpart I).
Comments must be submitted (postmarked, sent, or received) by May 2, 2016.
OSHA has a particular interest in comments on the following issues:
Whether the proposed information collection requirements are necessary for the proper performance of the Agency's functions, including whether the information is useful;
The accuracy of OSHA's estimate of the burden (time and costs) of the information collection requirements, including the validity of the methodology and assumptions used;
The quality, utility, and clarity of the information collected; and
Ways to minimize the burden on employers who must comply; for example, by using automated or other technological information collection and transmission techniques.
You may submit comments electronically at the Federal eRulemaking Portal. OSHA docket number for the Walking Surfaces ICR is OSHA–2013–0002. The docket number for the PPE ICR is OSHA–2009–0028.
---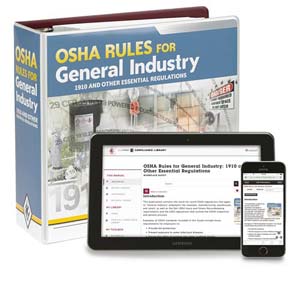 OSHA Rules for General Industry: 1910 and Other Essential Regulations puts OSHA's workplace safety regulations in a reader-friendly format.
---
J. J. Keller's FREE Workplace SafetyClicks™ email newsletter brings quick-read workplace safety and compliance news right to your email box.