OMB concludes review of silica final rule
Posted March 23, 2016
On March 21, the White House Office of Management Budget (OMB) completed its review of the silica rule. The final rule will update a 45-year-old standard.
Specifically, the rule is meant to protect workers from exposure to respirable crystalline silica — one for general industry and maritime, and the other for construction — in order to allow employers to tailor solutions to the conditions in their workplaces.
OSHA estimates that the rule will curb lung cancer, silicosis, chronic obstructive pulmonary disease, and kidney disease associated with crystalline silica, which kills hundreds of workers and sickens thousands more each year.
Crystalline silica is a significant component of the earth's crust, and many workers in a wide range of industries are exposed to it in general industry, construction, and maritime. Exposures occur when workers cut, grind, crush, or drill silica-containing materials such as concrete, masonry, tile, and rock.
Although the agency has attempted to address this problem through a variety of non-regulatory approaches, including initiation of a Special Emphasis Program on silica in October 1997, it realized that its out-of-date permissible exposure limits (PELs) and inability to reflect current sampling and analytical technologies required a rulemaking.
The OMB review is one of the final steps prior to the publication of the regulation in the Federal Register.
---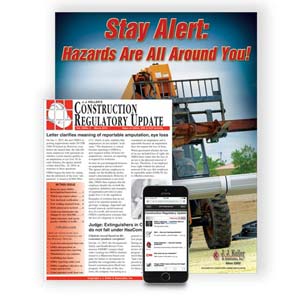 J. J. Keller's Construction Regulatory Update keeps you up-to-date with 1926 regulatory changes and new safety information.
---
J. J. Keller's FREE Workplace SafetyClicks™ email newsletter brings quick-read workplace safety and compliance news right to your email box.