House, Senate introduce bill intended to provide oversight to update of 'overtime' rules
Posted March 21, 2016
Lawmakers in the Senate and House on March 17 introduced the Protecting Workplace Advancement and Opportunity Act. The legislation is aimed at ensuring the Department of Labor (DOL) pursues a balanced and responsible approach to updating federal overtime rules, according to the U.S. Senate Committee on Health, Education, Labor and Pensions.
Overview
In 2014, the Obama administration began an effort to update the rules surrounding federal wage and hour standards. As part of that effort, the DOL released a proposal that increases the salary threshold under which employees qualify for overtime pay.
With the department expected to release a final rule in the coming months, the Committee says the Protecting Workplace Advancement and Opportunity Act will:
Prevent the department from finalizing a proposal that could limit opportunities for employees and place significant burdens on job creators;
Require the department to fully and accurately consider the economic impact of any rule on small businesses, nonprofits, institutions of higher education, and others who will be affected;
Ensure future changes to the salary threshold accurately reflect the economic realities facing workers and employers by making clear automatic increases are not allowed under current law; and
Promote transparency and accountability by requiring any changes to the duties tests be made available for public review and comment.
---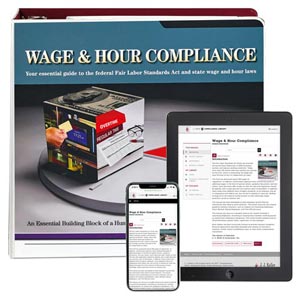 J. J. Keller's Wage and Hour Compliance with FLSA Manual provides critical info to help you comply with the Fair Labor Standards Act (FLSA) and state wage and hour laws.
---
J. J. Keller's FREE HRClicks™ email newsletter brings quick-read human resources-related news right to your email inbox.