Daylight Savings Time: Handling drivers' time recording
Posted March 11, 2016
Daylight Savings Time begins Sunday, March 13. This annual event often generates common questions on how to handle Daylight Savings Time on the driver's record of duty status (log). The following "best practices" for the time change can help keep you compliant.
Daily log
There are no official regulations or interpretations addressing documenting Daylight Savings Time on the driver's record of duty status; it's somewhat open to interpretation.
When you "lose" an hour in the spring, your log for that day should show 23 hours of activity. Leave a blank column on the grid for the hour from 2:00 a.m. - 3:00 a.m. (i.e., skip over that hour). The driver should also write something in the Remarks area like "DST" or "daylight savings."
If you are taking a required off-duty break at the time, make sure it's long enough without counting the lost hour.
'Clock' time
The hours-of-service rules do not rely on "clock" time. The fact that the clock jumps ahead has no effect on the 11-hour driving limit, the 14-hour window (which is based on consecutive time), or the 10-hour off-duty requirement (also based on consecutive time) for truck drivers, nor the 10-hour driving limit, 15-hour on-duty limit, or 8-hour off-duty rule for bus drivers.
For a 34-hour restart, the driver will still need to be off for 34 consecutive hours even if the clock says it was 35 due to the time change.
---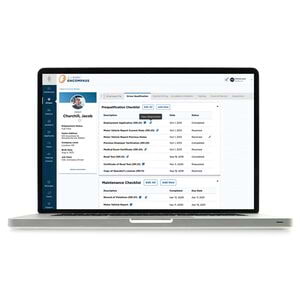 J. J. Keller® E-Logs - Compatible with iPad®, iPhone® and Android™ mobile devices. Affordable, flexible options from the nation's most respected transportation solutions provider.
---
J. J. Keller's FREE Transportation SafetyClicks™ email newsletter brings quick-read safety and compliance news right to your email box.