Presidential order reinforces regulatory reform agenda
Posted February 28, 2017
On February 24, President Trump signed an Executive Order (EO) that builds on an earlier order directing federal agencies to reduce regulations and control regulatory costs. The new EO reiterates the White House policy of alleviating "unnecessary regulatory burdens placed on the American people."
Regulatory reform officers
The EO calls for the head of each federal agency to designate an agency official to act as a "Regulatory Reform Officer" (RRO) by April 24. The RRO will ensure the agencies carry out the new administration's regulatory reforms, including the White House 2-for-1 regulations policy, which calls for the removal of two existing regulations for every new proposed regulation.
Regulatory reform task forces
The EO also requires federal agencies to establish a Regulatory Reform Task Force chaired by the agency RRO and made up of an agency Regulatory Policy Officer, a representative from the agency's central policy office or equivalent office, and at least three additional senior agency officials.
The task force will evaluate existing regulations and make recommendations to the agency regarding their repeal, replacement, or modification. At a minimum, each task force will attempt to identify regulations that:
Eliminate jobs or inhibit job creation;
Are outdated, unnecessary, or ineffective;
Impose costs that exceed benefits;
Create a serious inconsistency or otherwise interfere with regulatory reform initiatives and policies;
Rely in whole or in part on data, information, or methods that are not publicly available or that are insufficiently transparent to meet the standard for reproducibility; or
Derive from or implement Executive Orders of other presidential directives from previous administrations.
The task force will provide regular progress reports to the head of each agency.
Accountability
The EO instructs each federal agency to measure its progress toward the goals outlined in the order. The White House Office of Management and Budget will issue guidance on incorporating these measurements into agencies' annual performance plans.
---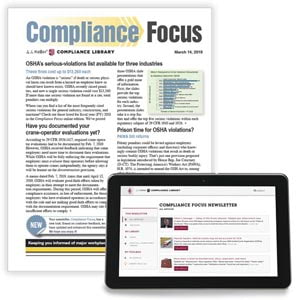 J. J. Keller's Compliance Focus helps you stay on top of critical regulatory developments from: DOT, OSHA, EPA, DOL, MSHA, EEOC, DHS and other agencies.
---
J. J. Keller's FREE Workplace SafetyClicks™ email newsletter brings quick-read workplace safety and compliance news right to your email box.