WHD releases interpretation on joint employment
Posted February 16, 2016
Joint employment exists when a person is employed by two or more employers such that the employers are responsible, both individually and jointly, for compliance with a statute. The Wage and Hour Division (WHD) released an Administrator's Interpretation concerning joint employment under the Fair Labor Standards Act (FLSA) and Migrant and Seasonal Agricultural Worker Protection Act (MSPA).
The FLSA and the MSPA share the same definition of employment. This definition, which includes "to suffer or permit to work," was written to have as broad an application as possible. Under these laws, it is possible for a worker to be jointly employed by two or more employers who are both responsible, simultaneously, for compliance. It is a longstanding principle under both the FLSA and MSPA that an employee can have two or more employers for the work that he or she is performing.
The interpretation identifies common scenarios in which two or more employers jointly employ an employee and are thus jointly liable for compliance. It pulls together all the relevant authorities — statutory provisions, regulations, and case law — to provide comprehensive guidance on joint employment under FLSA and MSPA so that employers can properly analyze a potential joint employment scenario.
---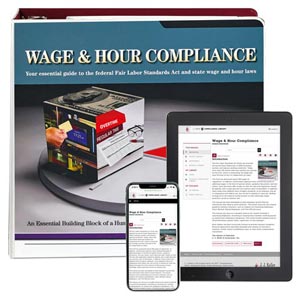 J. J. Keller's Wage and Hour Compliance with FLSA Manual provides critical info to help you comply with the Fair Labor Standards Act (FLSA) and state wage and hour laws.
---
J. J. Keller's FREE HRClicks™ email newsletter brings quick-read human resources-related news right to your email inbox.