Two Washington State women charged in separate workers' comp fraud cases
Posted February 25, 2016
Felony theft charges have been filed against two women in Washington State for allegedly stealing workers' compensation benefits. One claimed she hurt herself chasing a shoplifter, and the other insisted her spa injury was so serious she couldn't work.
The first worker claimed she injured her knee in May 2014 when chasing a shoplifter in her job as a loss prevention specialist at a Pasco grocery store. The Washington State Department of Labor & Industries (L&I) opened a workers' comp claim, which provided medical care for the workplace injury. The store allowed the worker to keep working with medical restrictions while her knee was being treated.
In April 2015, however, the worker admitted she wasn't really injured on the job, according to the charges. She apologized to her employer, saying she filed the false claim to get medical treatment for a painful, preexisting knee problem.
The loss prevention specialist is accused of stealing more than $11,000 in L&I benefits, including more than $7,200 for medical treatment. The amount also includes nearly $3,900 that L&I reimbursed the store for providing the employee with light duty instead of requiring her regular job tasks.
The second worker is accused of stealing more than $16,000 in wage replacement payments while signing official L&I documents that she wasn't working due to a workplace injury. In reality, charging papers say, she was working as an aesthetician at a medical services spa in Edmonds from September 2012 through February 2013.
Charging papers say she hid the fact she was working from L&I, her attorney, her L&I vocational counselor, and the doctor who approved her to receive wage replacement benefits. The worker originally injured her left hand while working for a Bellevue salon and spa in 2007.
L&I investigators discovered the case last year while comparing L&I workers' comp records with state Employment Security Department payroll records.
---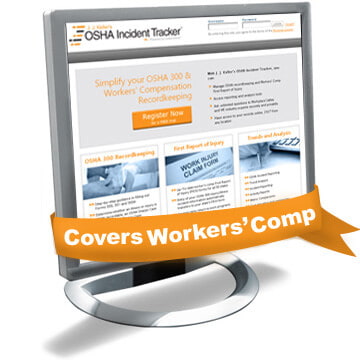 J. J. Keller's OSHA Incident Tracker™ Tool is an up-to-date online service that helps you simplify your OSHA Form 300 and worker's compensation recordkeeping.
---
J. J. Keller's FREE Workplace SafetyClicks™ email newsletter brings quick-read workplace safety and compliance news right to your email box.