Survey reveals workers' bizarre excuses for being tardy
Posted February 3, 2016
Getting to work on time is not always an easy task. You never know what will get in the way of your morning routine — and it's not always traffic delays, missed alarms, or bad weather, either.
Homeland Security, Vaseline, and lizard surgeries are just a few of the things workers have claimed prevented them from getting to work on time this year, according to a CareerBuilder survey. The data was collected from 2,595 hiring and human resource managers and more than 3,252 employees across industries between November 4 and December 1, 2015.
When asked how often they come to work late, 1 in 4 workers (25 percent) admitted they do it at least once a month, and 13 percent say it's a weekly occurrence for them — on par with last year.
Most unusual late-to-work excuses
Instead of blaming tardiness on typical traffic problems or public transportation woes, some employees are getting more creative with their justifications. When asked about the most outrageous excuses employees have given them for being late, employers shared the following:
I thought of quitting today, but then decided not to, so I came in late.
My hair caught on fire from my blow dryer.
I was detained by Homeland Security.
I had to chase my cows back into the field.
A black bear entered my carport and decided to take a nap on the hood of my car.
My lizard had to have emergency surgery in the morning and died during surgery. I had to mourn while deciding whether to have the lizard disposed of by the vet or bring the lizard corpse with me to work.
There was fresh powder on the hill. I had to go skiing.
There was a store grand opening and I wanted to get the opening day sales.
I had to finish watching "My Name is Earl."
All of my clothes were stolen.
I was confused by the time change and unsure if it was "spring forward" or "fall back."
A Vaseline truck overturned on the highway and cars were slipping left and right.
Flexible work schedules
Excuses might not be necessary as organizations move toward more flexible schedules. Approximately 2 in 3 employers (67 percent) and employees (66 percent) believe the concept of "working 9 to 5" is an outdated practice, but more than half of employers (51 percent) expect employees to be on time every day, and 4 in 10 (41 percent) have fired someone for being late.
Some employers are more lenient than others, however. One third of employers (33 percent) say they have no problem with the occasional late arrival, as long as it doesn't become a pattern, and 16 percent say they don't need employees to be punctual if they can still get their work done. To that end, 62 percent of workers who arrive late will stay later to make up for it.
In general, the usual suspects are to blame for why employees are late to work:
Traffic — 53 percent
Oversleeping — 33 percent
Bad weather — 28 percent
Lack of sleep — 23 percent
Needing to get kids to daycare or school — 15 percent
---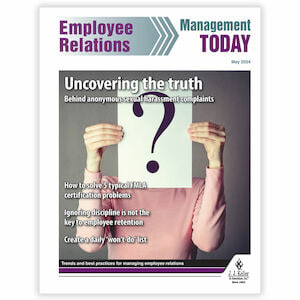 The SUPER adVISOR™ newsletter contains four pages dedicated to the HR manager and a corresponding four-page pullout dedicated to the needs of supervisors.
---
J. J. Keller's FREE HRClicks™ email newsletter brings quick-read human resources-related news right to your email inbox.