Produce company settles EEOC sexual harassment, retaliation lawsuits
Posted February 4, 2016
One of the largest apple producers in the United States will pay $272,000 to 20 claimants as part of a settlement resolving sexual harassment and retaliation claims pending before the Ninth Circuit Court of Appeals, the EEOC has announced. The company has also agreed to take steps to ensure that the workers do not suffer any retaliation as a result of their participation in the lawsuits or settlement.
In June 2010, EEOC filed a lawsuit alleging that numerous female farm workers at a fruit ranch faced sexual harassment over a period of years. At the time, the agency won a temporary restraining order and preliminary injunction against the company and its ranch manager for allegedly threatening and intimidating individuals who had assisted in EEOC's investigation. In September 2011, EEOC filed a second lawsuit against the company, charging that such alleged intimidation constituted illegal retaliation. Northwest Justice Project represented retaliation claimants who joined as intervenors in EEOC's lawsuit as well as three women in the harassment suit. Both cases resulted in adverse rulings for EEOC and claimants.
EEOC, represented by its appellate attorneys, took appeals in both cases. Northwest Justice Project also appealed on behalf of all intervenors. While the appeals were pending in the Ninth Circuit, the Commission, Northwest Justice Project, and the produce company reached a settlement resolving all claims in both cases.
EEOC attorney May Che said that while this litigation has prompted the produce company to improve its policies and practices, the impact of these cases has extended beyond the company to the industry at large. She noted that the PBS-televised documentary, "Rape in the Fields," which highlighted the case, is being used as a training tool across the country and inspired the passage of farmworker sexual harassment legislation (SB 1087) in California.
---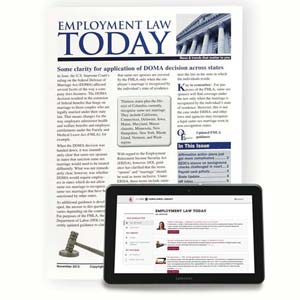 J. J. Keller's Employment Law Today newsletter explains why you need to care, what you need to do and how your business could be affected by HR industry news.
---
J. J. Keller's FREE HRClicks™ email newsletter brings quick-read human resources-related news right to your email inbox.