OSHA, Industrial Truck Association renew alliance
Posted February 4, 2016
OSHA recently renewed its alliance with the Industrial Truck Association (ITA) to reduce worker injuries and fatalities when using powered industrial trucks. During the five-year agreement, the alliance will focus on tip-over and struck-by hazards.
Through the alliance, participants will develop resources and provide training on recognizing and reducing workplace hazards related to the operation of powered industrial trucks. Additionally, the alliance will promote OSHA campaigns on preventing falls and heat illness, implement projects that protect temporary workers, and encourage a culture of safety, particularly to small businesses and workers with limited- and non-English speaking skills.
"Many workers suffer serious injuries or die from being crushed, struck by, or falling from forklifts," said Assistant Secretary of Labor for Occupational Safety and Health Dr. David Michaels. "Our continued alliance with ITA will help us promote awareness of the dangers of this equipment and provide valuable information and training to protect the safety of workers."
ITA has represented industrial truck manufacturers and suppliers of component parts and accessories for more than 60 years. Its membership comprises manufacturers of lift trucks, tow tractors, rough terrain vehicles, hand-pallet trucks, and automated guided vehicles.
Through its Alliance Program, OSHA works with unions, consulates, trade and professional organizations, faith- and community-based organizations, businesses, and educational institutions to prevent workplace fatalities, injuries, and illnesses. The purpose of each alliance is to develop compliance assistance tools and resources, and to educate workers and employers about their rights and responsibilities. Alliance Program participants do not receive exemptions from OSHA inspections or any other enforcement benefits.
---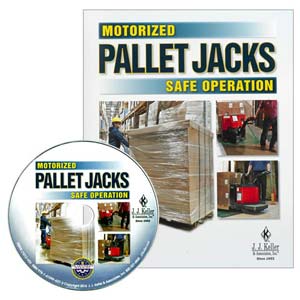 J. J. Keller's Motorized Pallet Jacks: Safe Operation provides training regarding the safe operation and dangers of the two most common types of motorized pallet jack trucks: "walkies" and "walkie-riders."
---
J. J. Keller's FREE Workplace SafetyClicks™ email newsletter brings quick-read workplace safety and compliance news right to your email box.