New York decal fee ruled unconstitutional by court
Posted February 5, 2016
Out-of-state trucking businesses entering the state of New York will not be required to pay the $19 New York highway use tax (HUT) registration and decal fee. In a class action law suit against the state of New York's Department of Taxation, the court ruled in favor of the Owner-Operator Independent Drivers Association (OOIDA), making the fee unenforceable.
The Association challenged the taxes as unconstitutional and discriminatory against out-of-state truckers who have paid the taxes in order to do business or travel in New York. The state's Supreme Court agreed and declared the fees invalid and unenforceable.
OOIDA had argued that the fees constituted an undue burden on interstate commerce in violation of the Commerce Clause of the U.S. Constitution.
OOIDA's action also asked for refunds and other appropriate relief on behalf of the plaintiffs.
OOIDA President and CEO Jim Johnston said the next step is to submit a memorandum to the court regarding damages, class administration, and attorney's fees. Johnston said the award could be "up to $20 million or so."
OOIDA's legal action represents a class of all interstate motor carriers who reside and operate trucking equipment primarily outside New York who have paid or will pay the taxes.
While the decal fee is no longer in effect, the requirement to display the decal on vehicles is still in effect. Enforcement will expect vehicles subject to the tax to display a New York HUT decal or provide a trip permit.
However, the HUT portion of New York's One Stop Credentialing and Registration (OSCAR) online filing site is down as a result of the lawsuit. If a carrier requires additional decals or trip permits, the carrier will need to contact the Department of Tax and Finance at (518) 457-5735 for instructions on how to obtain the decals or trip permits.
---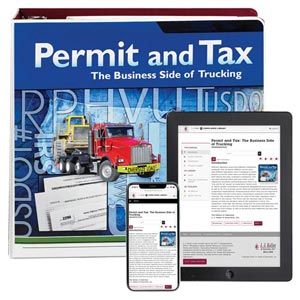 J. J. Keller's Trucking Permit & Tax Manual provides detailed information on how to get tax refunds and credits to which you may be entitled.
---
J. J. Keller's FREE Transportation SafetyClicks™ email newsletter brings quick-read safety and compliance news right to your email box.