NTSB to meet on fatal truck crash in Illinois
Posted February 8, 2016
The National Transportation Safety Board (NTSB) is scheduled to meet Tuesday to determine the probable cause of the January 27, 2014, crash near Naperville, Illinois.
According to the NTSB, a truck tractor semitrailer collided with several vehicles that were providing aid to a disabled tractor-trailer that had stopped in the right lane of eastbound Interstate 88. The truck first struck an Illinois State Police patrol car, pushing it off the road. Flames engulfed the patrol car, seriously injuring the police officer. The truck then crashed into a Highway Emergency Lane Patrol (HELP) truck, pinning it between the striking truck and the disabled tractor-trailer and fatally injuring the HELP truck driver. That impact then pushed the disabled tractor-trailer into a heavy-duty tow truck.
The board meeting will be at the NTSB Board Room and Conference Center on February 9, 2016, at 9:30 a.m. ET
There will also be a live webcast of the meeting. A link to the webcast will be available shortly before the start of the meeting at ntsb.capitolconnection.org.
---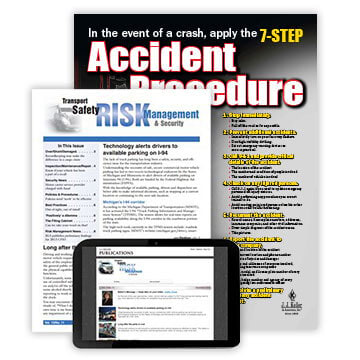 J. J. Keller's Transport Safety Risk Management & Security Newsletter keeps you up-to-date on the latest security and motor carrier safety risk management.
---
J. J. Keller's FREE Transportation SafetyClicks™ email newsletter brings quick-read safety and compliance news right to your email box.