Greeting colleagues with a hug becoming more mainstream, survey shows
Posted February 8, 2016
Many professionals may ponder the appropriateness of hugging when greeting or bidding farewell to colleagues. Research suggests that hugging among coworkers is more popular than in the past. More than half (54 percent) of advertising and marketing executives said this practice is at least somewhat common in the United States, up from 30 percent five years ago.
It's a different story when it comes to meeting clients, however. Seventy-seven percent of respondents said business hugs are rarely, if ever, appropriate in this context, up one point from 2011.
The survey was developed by The Creative Group and conducted by an independent research firm. It includes responses from more than 400 U.S. advertising and marketing executives.
Advertising and marketing executives were asked, "In general, how common is it for you to greet the following individuals with a hug instead of a handshake in the United States?" Their responses:
Coworker

Client/business

2016

2011

2016

2011

Very common if you know the individual well or it has been a while since you have seen him or her.

10%

7%

5%

3%

Somewhat common if you know the individual well or it has been a while since you have seen him or her.

44%

23%

17%

21%

Not common at all; hugging is rarely appropriate in a business setting.

22%

57%

33%

61%

Never; hugging is not appropriate in a business setting.

23%

13%

44%

15%

Don't know.

1%

0%

2%

0%
The Creative Group offers the following tips for greeting business contacts with grace:
Master the handshake. A firm handshake is a safe bet as it's a standard greeting in many parts of the world — and one that isn't apt to offend.
Go in the right order. If you're meeting with a group of people, exchange pleasantries with new contacts before those you already know. Also, make a point to introduce junior-ranking employees to senior-level staff.
Avert awkwardness. Not a fan of business hugs? Protect your personal space by extending your hand early when approaching colleagues to signal your preference.
"Business hugs may be more prevalent today, but they might not be welcomed by everyone," said Diane Domeyer, executive director of The Creative Group. "When greeting colleagues, consider the environment and tune into body language. Even if you're a natural hugger, it's best to offer a handshake when you sense a hug may make someone uncomfortable."
---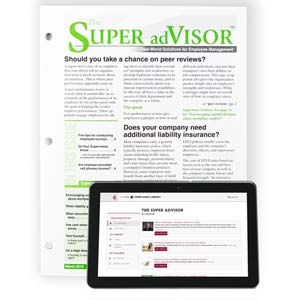 The SUPER adVISOR™ newsletter contains four pages dedicated to the HR manager and a corresponding four-page pullout dedicated to the needs of supervisors.
---
J. J. Keller's FREE HRClicks™ email newsletter brings quick-read human resources-related news right to your email inbox.