FTC approves final order with commercial trucking services company
Posted February 2, 2016
Following a public comment period, the Federal Trade Commission (FTC) has approved a final order settling charges that an Idaho-based company that provides drug and alcohol testing and other services to commercial trucking companies and their drivers, illegally invited one of its competitors to enter into a customer allocation agreement.
Under the order, first announced in December 2015, the company must stop communicating with its competitors about prices, and is barred from soliciting, entering into, or maintaining an agreement with any competitor to divide markets, allocate customers, or fix prices; and from urging any competitor to raise, fix, or maintain prices, or to limit or reduce service.
Background
According to the complaint, the company and a competitor market and sell similar services in direct competition. Beginning in 2013, the two companies have competed for one another's customers by offering lower prices for similar services. In some instances, one rival has induced a customer, whose contract is terminable at will, to switch service providers by offering lower prices.
On or about June 27, 2014, the president of the company contacted the competitor to complain about the actions of the competitor's sales personnel that led a customer to switch service providers. The president requested a meeting with its competitor to discuss the matter.
On or about July 10, 2014, the president met with the principals of the competitor. The president proposed that the firms agree not to solicit or compete for one another's customers. Specifically, the president proposed that his company and the competitor should reciprocally agree to refrain from selling or attempting to sell a service to a customer if the rival firm had previously arranged to sell the same service to the customer. The president referred to this arrangement as "First Call Wins," and explained that such agreement would allow each company to sell its services to customers without fearing that its rival would later undercut it with a lower price offer.
According to the agency, the company invited a competitor to enter into an agreement to allocate customers, in violation of Section 5 of the Federal Trade Commission Act, as amended. The acts and practices of the company, as alleged, constitute unfair methods of competition in or affecting commerce in violation of Section 5 of the Federal Trade Commission Act, as amended.
---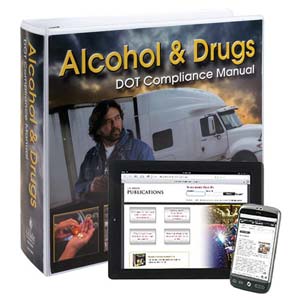 J. J. Keller's Alcohol & Drugs: DOT Compliance Manual is an easy-to-use manual that can help you understand and comply with DOT's Alcohol & Drug Testing requirements, including 49 CFR Parts 382 and 40.
---
J. J. Keller's FREE Transportation SafetyClicks™ email newsletter brings quick-read safety and compliance news right to your email box.