Could lunch periods count toward the FMLA hours eligibility criterion?
Posted February 26, 2016
Gus was scheduled to work Saturday through Wednesday from 11 p.m. to 7 a.m. with a 30-minute lunch break each day. He took time off under the Family and Medical Leave Act (FMLA) to care for his ill mother, whose condition spanned multiple 12-month leave year periods.
When Gus requested leave for the first time in a new 12-month leave year period, Dana, the company's timekeeper, indicated that Gus had not yet met the 1,250 hours worked eligibility requirement, so the leave was denied. Gus would not meet the threshold until a week or so after his requested leave would begin.
Gus' calculations, however, showed that he had worked 1,299 hours, based on an eight-hour workday, because he was not relieved at lunch. He indicated that he was not able to leave the premises or eat in the lunchroom. He ate while on duty.
After a disciplinary hearing, Gus was suspended for unprotected absences. He was subsequently terminated and, in response, he sued.
The employer argued that Gus was not eligible for FMLA leave because he did not work, as far as the company knew, at least 1,250 hours in the 12 months before leave was to begin. The company did not have actual or constructive knowledge of him working through his lunch breaks. Gus' supervisor never reported observing, ordering, or requiring Gus to work through his lunch break. Gus' time sheets, also, did not show that he worked through his lunch breaks, and Gus never requested overtime pay for the extra hours he supposedly worked.
Gus maintained that, because the department was short-staffed, he needed to work through his lunch breaks, thereby meeting the 1,250 hour eligibility requirement.
The court pointed out that unrequested work is still work time if the employer suffers or permits the work and knows or has reason to believe the employee continues to work. Therefore, the court allowed the case to move forward as it was not clear whether it was a secret that Gus worked through his lunch breaks. The employer had a duty to ensure that Gus was not working through his breaks if it did not want him to do so.
It pays to keep a watch on the hours (or minutes) employees work. Despite having no evidence supporting his claim, the employee's arguments managed to convince the court that he could have worked the extra time and, therefore, met the 1,250 hour criterion. All hours actually worked must be included in the calculation.
Caggiano v. Illinois Department of Corrections, District Court for the Northern District of Illinois, Easter Division, No. 14 c 3378, January 29, 2016.
This article was written by Darlene Clabault of J. J. Keller & Associates, Inc.
---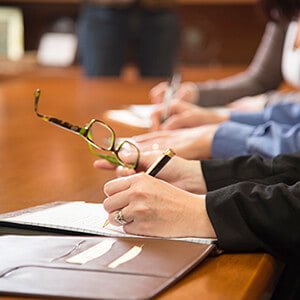 J. J. Keller's Family and Medical Leave Act (FMLA) Consulting Services can help your company ensure compliance with FMLA requirements and minimize the law's burden to your organization.
---
J. J. Keller's FREE HRClicks™ email newsletter brings quick-read human resources-related news right to your email inbox.