Advocacy group for the blind will pay $25K in religious accommodation lawsuit
Posted February 11, 2016
An organization for blind and low-vision individuals will pay $25,000 and furnish significant equitable relief to settle a federal religious discrimination lawsuit, the U.S. Equal Employment Opportunity Commission (EEOC) announced on February 8.
According to EEOC's lawsuit, an employee at the organization is a practicing Hebrew Pentecostal, a Christian denomination, who abstains from working from sunset Friday to sunset Saturday based on his sincerely held religious beliefs. EEOC charged that about two months after the employee started working for the organization as a bookkeeper, management told the employee he would have to work certain Saturdays. The employee explained that he could not work Saturdays due to his religious beliefs and requested a reasonable accommodation, such as working on Sundays or working late on week nights other than Fridays. The organization refused to provide any reasonable accommodation and instead abruptly fired the employee because of his religion, according to the lawsuit.
Title VII of the Civil Rights Act of 1964 prohibits employers from discriminating against individuals because of their religion and requires employers to reasonably accommodate an employee's sincerely held religious beliefs unless doing so would impose an undue hardship.
In addition to the $25,000 in monetary relief to the employee, the 30-month consent decree resolving the lawsuit enjoins the organization from engaging in religious discrimination, including failing to provide a reasonable accommodation. The organization will implement and disseminate to all employees a detailed policy against religious discrimination. Additionally, the organization will train all managers and supervisors on Title VII's prohibitions against employment discrimination, with an emphasis on the religious discrimination protections, and will post a notice about the settlement.
---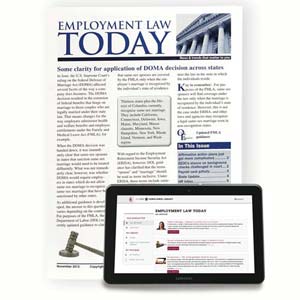 J. J. Keller's Employment Law Today newsletter explains why you need to care, what you need to do and how your business could be affected by HR industry news.
---
J. J. Keller's FREE HRClicks™ email newsletter brings quick-read human resources-related news right to your email inbox.