Trump signs Executive Order to waive, delay, or defer enforcement of ACA
Posted January 25, 2017
As a first step toward his campaign promise to repeal the Affordable Care Act (ACA), President Trump issued an Executive Order on January 20 with the stated purpose to "minimize the unwarranted economic and regulatory burdens of the Act."
The order directs the Secretary of Health and Human Services and all other executive agencies to "waive, defer, grant exemptions from, or delay the implementation of any provision or requirement" of the ACA that would impose "a cost, fee, tax, penalty, or regulatory burden on individuals, families, healthcare providers, health insurers, patients" and others.
While federal agencies might be authorized to defer enforcement of some provisions, the extent to which any exemptions or delays might be implemented is not known. This directive may have a relatively small impact for health insurance providers and self-insured employers in the short term, since plans currently in effect will likely need to be carried out as written.
The order also directs executive agencies to begin the process of revising regulations in order to reduce the burdens described. The notice-and-comment rulemaking process is lengthy, however, and finalizing revised regulations could take a year or more.
This article was written by Edwin Zalewski of J. J. Keller & Associates, Inc.
---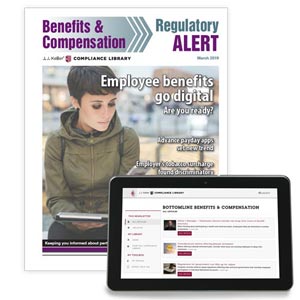 J. J. Keller's BottomLine Benefits & Compensation is an 8-page, monthly newsletter that addresses key issues relating to benefits and compensation programs.
---
J. J. Keller's FREE HRClicks™ email newsletter brings quick-read human resources-related news right to your email inbox.