Senate nomination hearing for Elaine L. Chao scheduled on January 11th
Posted January 6, 2017
The Senate Committee on Commerce, Science, and Transportation will convene to discuss the nomination of Elaine Chao, President-elect Donald Trump's choice for Secretary of the Department of Transportation.
The nomination hearing, scheduled on January 11, 2017, at 10:15 a.m. Eastern Standard Time, will stream live video on the Senate Committee website.
Biography
Chao is presently a Distinguished Fellow at the Hudson Institute, where she has been since 2016. She received her Bachelor of Arts Degree at Mount Holyoke College, and her Master of Business Administration at Harvard Business School.
According to information provided by the Committee through Chao's nomination questionnaire, other professional experience includes:
Distinguished Fellow, The Heritage Foundation; 2009-2016 and 1996-2001
Secretary of Labor, 2001-2009
President & CEO, United Way of America; 1992-1996
President & CEO, U.S. Peace Corps; 1991-1992
Deputy Secretary of Transportation, 1989-1991
Chairman, Federal Maritime Commission; 1988-1989
Deputy Administrator, Federal Maritime Commission, 1986-1988
Vice President, Bank of America; 1984-1986
White House Fellow, Office of Policy Development, 1983-1984
Citibank, 1979-1983
Foremost Group, 1975-1977
Challenges ahead
One of the questions posed to Secretary Chao by the Committee (appearing on the nomination questionnaire) was to identify the top three challenges facing the department/agency and why. She responded:
"A top priority for DOT is to maintain a culture of good stewardship on behalf of the American people. This means effective enforcement of safety measures; getting the most benefit from the Department's expenditures including strengthening its planning and acquisition practices; and preparing for the future by considering new technologies in our infrastructure. Second, given the nation's need to improve critical infrastructure, it is important to find ways to expedite the process of making repairs and building new constructions and decreasing the regulatory burdens when appropriate. With or without a new infusion of funds, it is necessary to look at the existing processes for infrastructure development and find more efficient ways to address bottlenecks in planning and permitting. Third, with so many needs everywhere in the country, a big challenge will be to strive for equity between urban and rural areas, among different modes of transportation, and other competing but equally deserving stakeholders."
View Secretary Chao's nomination questionnaire in its entirety.
---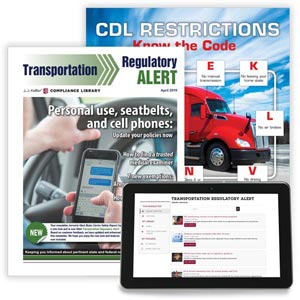 J. J. Keller's Motor Carrier Safety Report keeps you current on federal and state compliance information that impacts your drivers, trucks, and bottom line.
---
J. J. Keller's FREE Transportation SafetyClicks™ email newsletter brings quick-read safety and compliance news right to your email box.