Study strengthens link between stock market performance and worker health and safety programs
Posted January 15, 2016
A study utilizing investment simulations for 17 publicly held companies with strong health or safety programs for employees suggests that employers that invest significantly in health and safety programming can outperform other companies in the marketplace.
The study, published in this month's issue of the Journal of Occupational and Environmental Medicine (JOEM), is featured in a special section highlighting the impact health and safety programs may have on a company's investment value. The study was sponsored by the UL (Underwriters Laboratories) Integrated Health and Safety Institute.
Lead author Raymond Fabius, MD, co-founder of HealthNEXT, and colleagues studied the stock market performance of companies that had applied for or received the American College of Occupational and Environmental Medicine's (ACOEM's) Corporate Health Achievement Award (CHAA), which annually recognizes the healthiest and safest companies in North America. To be considered for the CHAA, companies must be engaged in measurable efforts to reduce health and safety risks among their employees.
The authors tracked the stock market performance of 17 CHAA applicants or recipients with proven health and/or safety programs using six investment modeling scenarios. Companies studied had achieved high CHAA scores in either health or safety, or in both categories. Investment scenarios were created and analyzed for the period spanning 2001 to 2014, using a hypothetical initial investment of $10,000.
Over this 13-year period, the hypothetical investment returns for CHAA companies were significantly higher than average S&P 500 returns — as much as triple in some of the scenarios. In the best-performing scenario, CHAA companies achieved a 333 percent return, compared to an S&P return of 105 percent during the same period. In the lowest-performing scenario, CHAA companies achieved a 204 percent return, compared to the S&P return of 105 percent..
The authors conclude that companies that score high in CHAA health and/or safety categories are associated with superior marketplace performance.
Two additional studies that pulled from different populations and used slightly differing methodologies and timeframes also support the finding that financially sound, high-performing companies invest in employee health. These studies, one conducted by The Health Project (www.thehealthproject.com) and the other conducted by the Health Enhancement Research Organization (HERO) (www.hero-health.org), were also published in the January issue of JOEM. The research methodologies for the three studies were also developed by Raymond Fabius, MD. Dr. Fabius is a co-author on the three papers.
The authors of the CHAA study acknowledge that the study presents correlation but does not imply causation. They stress that the evidence linking business value with health and safety programming continues to grow and is useful to investors.
The CHAA study is titled "Tracking the Market Performance of Companies That Integrate a Culture of Health and Safety: An Assessment of Corporate Health Achievement Award Applicants."
---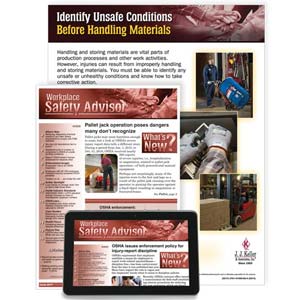 J. J. Keller's Workplace Safety Advisor newsletter delivers up-to-date workplace safety and compliance news every month.
---
J. J. Keller's FREE Workplace SafetyClicks™ email newsletter brings quick-read workplace safety and compliance news right to your email box.