Pennsylvania manufacturer settles GINA lawsuit
Posted January 12, 2016
A Pennsylvania mining equipment manufacturer will provide significant relief to settle a federal genetic information discrimination lawsuit filed by the U.S. Equal Employment Opportunity (EEOC), the agency announced on January 7.
According to EEOC's lawsuit, after making conditional employment offers, the company required applicants to undergo a post- offer medical examination. EEOC charges that the company improperly requested family medical history on its pre-placement physical form asking applicants if they had a family medical history for "TB, Cancer, Diabetes, Epilepsy, [and] Heart Disease."
Such alleged conduct violates the Genetic Information Non-Discrimination Act (GINA), which protects individuals against employment discrimination on the basis of genetic information, including family medical history. GINA also prohibits employers from requesting, requiring or purchasing genetic information about applicants or employees, except in very narrow circumstances which do not apply in this case.
The two-year consent decree resolving the lawsuit provides substantial equitable relief and prohibits the company from violating GINA and engaging in unlawful retaliation. The company will refrain from inquiring directly or indirectly about genetic information of an applicant, an applicant's family member, employee, or an employee's family member except as permitted by GINA. The company will also provide training on GINA to all management and human resources personnel with responsibilities related to hiring. The decree also provides for EEOC to monitor the company's compliance with decree provisions.
---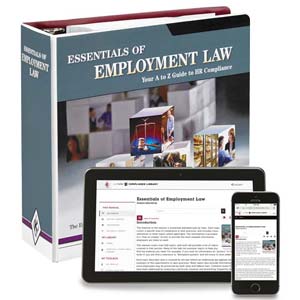 J. J. Keller's Essentials of Employment Law Manual covers more than 100 vital HR topics, including FMLA, ADA, HIPAA, FLSA, COBRA and more.
---
J. J. Keller's FREE HRClicks™ email newsletter brings quick-read human resources-related news right to your email inbox.