Health care surcharge for smokers leads to decreased smoking in the workplace, survey finds
Posted January 20, 2016
Forty-five percent of employers who have health care surcharges in place for smokers say employee smoking in the workplace decreased since the policy was implemented, according to a Society for Human Resource Management (SHRM) survey released on January 14.
Approximately one-fifth of survey respondents (18 percent) impose smoking surcharges, which result in higher health care premiums for smokers. In addition, 54 percent of respondents are providing smokers with wellness information on the benefits of a smoke-free lifestyle.
"Employers are taking a stance on smoking evidenced by smoking surcharges as well as banning smoking on company premises," said Evren Esen, director of survey programs at SHRM. "While it is difficult to determine if these measures are having an impact in reducing smoking during nonwork hours, it may be an impetus for employees to rethink their smoking behaviors overall."
According to the survey results, 85 percent of HR professionals indicated that their organizations had a formal, written smoking policy in place, and 53 percent of respondents indicated that their companies permitted smoking in the workplace.
"Slightly more than half of HR professionals stated that disciplinary actions were taken against employees who violated organization smoking policies," Esen explained. "Therefore, employees have a strong incentive to quit smoking or reduce smoking to only nonwork hours."
Of companies that disciplined employees, 66 percent indicated that their organizations gave a verbal warning for first-time smoking policy offenses, while 13 percent gave a written warning.
However, smoking traditional cigarettes on company property is not the only reason an employee might get reprimanded. Forty-four percent of organizations now include electronic cigarettes and other vaporizers in their organizations' smoking policies. Two percent have a separate policy for vaping.
Over one-half of respondents (54 percent) indicated their organizations did not have a vaping policy, yet one-third (33 percent) said their organizations had plans to implement one within a year.
Of those organizations that said they had a smoking policy, 58 percent stated there were designated smoking areas (inside and/or outside common areas). Thirty-one percent said their policy banned all smoking in the workplace (both inside and outside common areas), and one percent said their policy allowed individuals to smoke inside personal vehicles.
---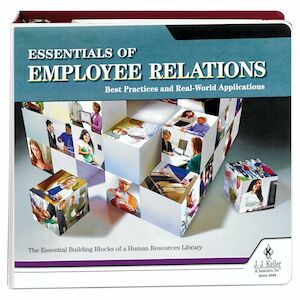 J. J. Keller's Essentials of Employee Relations Manual comprehensive guide is an ideal resource for anyone with responsibilities related to employee relations, including HR managers and supervisors, recruiters and more.
---
J. J. Keller's FREE HRClicks™ email newsletter brings quick-read human resources-related news right to your email inbox.