Food manufacturer pays $4 million to settle race discrimination suit
Posted January 5, 2016
A food manufacturer will pay $4 million to a group of 74 African-American former employees and provide other significant relief to settle a lawsuit that claimed the employees were subjected to a racially hostile work environment at a facility in Paris, Texas.
EEOC claimed African-American employees were subjected to racist graffiti on the walls of the bathrooms and locker room. The former bakery employees also alleged that during work hours, they were berated with racial slurs by supervisors and other white coworkers, and complaints by the plant workers went unaddressed by management.
Race discrimination in the workplace, including race harassment, violates Title VII of the Civil Rights Act of 1964. The EEOC filed suit (Case No. 2:15-cv-1347) in U.S. District Court for the Eastern District of Texas, Marshall Division, after first attempting to reach a pre-litigation settlement through its conciliation process.
EEOC determined racial slurs and graffiti continued at the facility in Paris for years, until the doors finally closed in November 2011.
The two-year consent decree settling the case provides for an injunction where the company will implement various preventative approaches regarding discrimination or harassment against any employee on the basis of race and will periodically report incidents or investigations to EEOC. The company also agreed to engage in remedial measures such as antidiscrimination training and implementation of procedures to prevent and promptly address graffiti issues.
---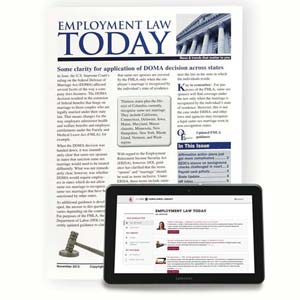 J. J. Keller's Employment Law Today newsletter explains why you need to care, what you need to do and how your business could be affected by HR industry news.
---
J. J. Keller's FREE HRClicks™ email newsletter brings quick-read human resources-related news right to your email inbox.