FMLA does not protect employees from demotions
Posted January 8, 2016
While some employees might think that the Family and Medical Leave Act (FMLA) protects every action they might take, many would be sorely misinformed. The FMLA is an employee protection law, but employers may take certain actions when an employee makes a misstep.
Case in point
Keith, a manager, had been working for the company for about a decade when he began to show signs of job performance issues. The issues included customer complaints, violation of the company's dress code, and failing to perform managerial duties. Due to these issues, Keith was placed on a 90-day performance improvement plan (PIP).
Soon thereafter, one of Keith's subordinates informed company management that she was concerned Keith was going to "scam" the company; that he intended to take a medical leave to secure his managerial pay and position in the event of a demotion.
Based on this information (and his job performance record), Keith was demoted. Two days later, he requested and was provided with FMLA leave for stress and anxiety.
While Keith was on FMLA leave, he indicated that he wanted to return to work, but he wanted to be transferred to a different company location. Since Keith was not yet released to return to work, the request was denied. Eventually, however, he did return to work and was transferred.
Before the transfer took place, however, Keith filed a claim arguing that the company violated the FMLA when it demoted him and prohibited him from returning to work upon his request. He said these actions were in retaliation for his engaging in FMLA-protected activity, namely his comment to his subordinate that he was contemplating medical leave. He felt that this comment was his notice of the need for FMLA leave. He also argued that a connection existed between his comment and his demotion.
The court did not agree, indicating that the comment did not equate to sufficient notice to Keith's superiors. It also indicated that Keith's track record of job performance issues prior to his request for FMLA leave did not establish retaliation. A decline in performance before an employee engages in protected activity does not allow for an inference of retaliation.
The company was able to show that, before Keith's demotion, he faced performance issues, and that it honestly believed he violated company policy by contemplating a fraudulent medical leave.
In regard to the transfer, Keith argued that the company retaliated against him by prohibiting him from returning to work when he requested the transfer. Keith, however, had not yet been released to return to work, and employers are under no obligation to restore an employee if he or she is unable to perform the essential functions of the job. Since Keith was still on leave because he couldn't perform his job, the company did not need to reinstate him at that time. When he was released, he was reinstated and transferred. Therefore, Keith really had no basis for his argument.
While this company indicated that it believed Keith violated company policy based on the subordinate's comment, it is unclear whether the company performed any investigation into the allegation. Just because this court did not address this particular issue, does not mean that employers should forego such investigations. Another court could likely address it.
---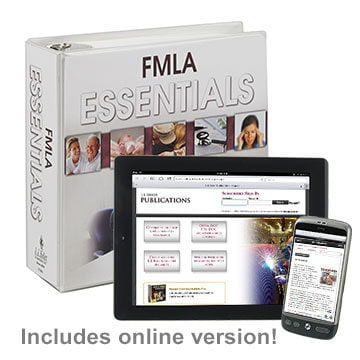 J. J. Keller's FMLA Essentials Manual uses clear, conversational language to help you understand the FMLA (Family and Medical Leave Act) requirements.
---
J. J. Keller's FREE HRClicks™ email newsletter brings quick-read human resources-related news right to your email inbox.