EEOC sex discrimination lawsuit against Illinois coal mining company will proceed
Posted January 26, 2016
Relying upon the Supreme Court's 2015 decision in the case, the Southern District of Illinois on January 19 confirmed that the Equal Employment Opportunity Commission (EEOC) could proceed with its sex discrimination action against an Illinois coal mining company. The judge assigned to the case rejected the company's attempt to use supposed flaws in the agency's pre-suit conciliation process as a basis for delay or dismissal of the case.
In 2012, EEOC filed suit against the company alleging that it violated Title VII of the Civil Rights Act of 1964 by failing to ever hire a woman for a mining position despite receiving applications from qualified women. The agency's complaint also alleges that the company did not have bathroom facilities for female miners.
The company responded to the EEOC's sex discrimination claims by trying to dismiss the agency's action on the basis of supposed failures in the statutorily required pre-suit conciliation process. The pre-suit conciliation process provides employers with an opportunity to come into voluntary compliance before the agency files an action in court.
After decisions by both the District Court for the Southern District of Illinois and the United States Court of Appeals for the Seventh Circuit, the Supreme Court ruled on whether the EEOC's pre-suit conciliation process is subject to judicial review. On April 29, 2015, the Court issued a unanimous opinion, holding that only "narrow" review is appropriate because only such "limited review respects the expansive discretion that Title VII gives the EEOC over the conciliation process," and that any failure by the agency to engage in conciliation is not a basis for dismissal of the agency's case. According to the EEOC, even after that decision, the company continued in its attempt to maintain a conciliation-based affirmative defense.
---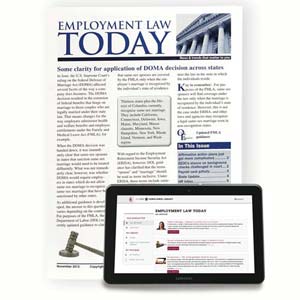 J. J. Keller's Employment Law Today newsletter explains why you need to care, what you need to do and how your business could be affected by HR industry news.
---
J. J. Keller's FREE HRClicks™ email newsletter brings quick-read human resources-related news right to your email inbox.