Company may owe more than $1.75M in back wages and damages
Posted January 6, 2016
The U.S. Department of Labor (DOL) has alleged that workers at a Pennsylvania company were improperly denied compensation for short rest periods, claiming that workers were required to clock out for water, bathroom, and rest breaks.
The Fair Labor Standards Act (FLSA) does not require employers to offer lunch or coffee breaks. However, when employers do offer short breaks (usually lasting about 5-to-20 minutes), the time must be paid and the hours must be counted when determining overtime.
Improperly docking such time could result in overtime violations, or could result in a minimum wage violation if the weekly compensation divided by the hours worked (including break times) did not provide at least the minimum wage.
A federal judge found the defendants in violation of the FLSA and determined that the company and its owner are liable for back wages resulting from these unpaid breaks, plus an equal amount in liquidated damages. A judge may award liquidated damages if a violation is deemed to be willful.
Although the exact amounts have not yet been determined, the DOL estimates that the company and its owner are liable for at least $1.75 million in back wages and liquidated damages to more than 6,000 employees who worked in 14 call centers.
The lawsuit followed an investigation by the Wage and Hour Division (WHD) which found that employees had to clock in and out for every break, even those as short as two to three minutes. The court found the company also violated FLSA recordkeeping requirements.
---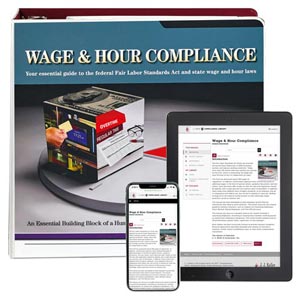 J. J. Keller's Wage and Hour Compliance with FLSA Manual provides critical info to help you comply with the Fair Labor Standards Act (FLSA) and state wage and hour laws.
---
J. J. Keller's FREE HRClicks™ email newsletter brings quick-read human resources-related news right to your email inbox.