Companies should prioritize culture over perks to attract, retain millennials, study suggests
Posted January 25, 2016
New data shows that millennials look for more out of their workplaces than just high salaries and good benefits.
The report by Virgin Pulse, "Misunderstood Millennials: How the Newest Workforce is Evolving Business," reveals that 73 percent of millennials seek meaningful work at an organization with a mission they support, and a remarkable 90 percent say they want to use their skills for good, suggesting that millennials seek workplaces with a culture of altruism that enables them to give back. Millennials also care about workplace culture, with 77 percent noting it is just as, or more important than, salary and benefits.
"Millennials are the fastest growing segment of the American workforce and they're changing the way we work. Young workers are pushing employers to be more flexible, more creative, and more responsive to all of their people's needs," said Chris Boyce, CEO of Virgin Pulse. "The companies that will most successfully adapt to a changing workforce will be the ones that help all employees, not just millennials, find meaning in their work and provide flexibility that helps their people more easily balance professional and personal responsibilities."
The traditional work-life balance that previous generations pursued is less of a priority for millennials, who want to better integrate professional responsibilities with their personal lives. Specifically, millennials look for more flexible and plugged-in ways to work, over being confined to traditional schedules or within the walls of a workplace. Flexible work hours are important to 80 percent of young workers, who rely heavily on technology to stay productive while away from work. Fifty percent of millennials say technology allows them to work from anywhere and 80 percent say technology allows them to more quickly complete tasks.
The survey also revealed a number of ways in which employers can motivate millennials and truly engage them. Retirement savings (88 percent), tuition reimbursement (64 percent), and well-being support (61 percent) ranked among the most important benefits beyond health and dental coverage and paid time off.
---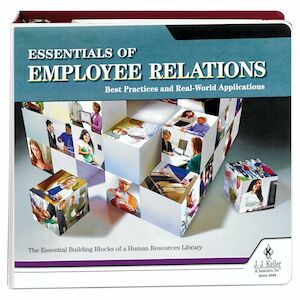 J. J. Keller's Essentials of Employee Relations Manual comprehensive guide is an ideal resource for anyone with responsibilities related to employee relations, including HR managers and supervisors, recruiters and more.
---
J. J. Keller's FREE HRClicks™ email newsletter brings quick-read human resources-related news right to your email inbox.