Back to Press Releases
FOR IMMEDIATE RELEASE (April 2, 2016)
New Training Programs Reinforce Importance of Accident Prevention for New and Veteran Drivers
Six new titles from J. J. Keller & Associates, Inc. support essential driver safety skills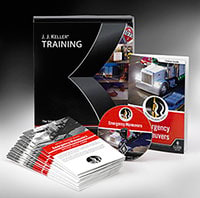 Neenah, WI - J. J. Keller & Associates, Inc., the nation's leader in safety and regulatory compliance, has introduced a new series of driver training videos focused on the development of critical safety skills.
Designed by J. J. Keller's subject-matter experts, the new Driver Training Series covers a variety of safety topics, including accident procedures, driving techniques, emergency maneuvers, extreme weather driving, fixed object collisions, and night driving.
"Research shows that with effective training, drivers can significantly reduce the risk of accidents or injuries while on the road," said Chris Bauer, senior product development specialist for J. J. Keller & Associates, Inc. "Our new series combines engaging video technology, the latest in adult learning techniques, and a variety of convenient training formats to ensure we're delivering an effective program that helps keep drivers compliant and safe."
Featuring "pro driving tips" from seasoned drivers and motor carrier safety personnel, J. J. Keller's Driver Training Series is suitable for drivers of all experience levels, helping new drivers develop vital safety skills, and keeping veteran drivers from becoming complacent.
Training is available in DVD, Pay Per View and Online Course formats. The DVD program includes a Trainer Guide and 10 Driver Skill Cards.
J. J. Keller & Associates, Inc. offers a variety of convenient, affordable training solutions for transportation professionals. To learn more, visit JJKeller.com/115399 or call 800-327-6868.
About J. J. Keller & Associates, Inc.®
Since its beginning as a one-man consulting firm in 1953, J. J. Keller & Associates, Inc. has grown to become the most respected name in safety and regulatory compliance. Now over 1,400 associates strong, J. J. Keller serves over 420,000 customers — including over 90% of the Fortune 1000® companies. The company's subject-matter expertise spans nearly 1,500 topics, and its diverse solutions include E-Logs and mobile technology; training via online courses, streaming video or DVD; online management tools; managed services; consulting services; online and print publications; forms and supplies.
Transportation professionals rely on J. J. Keller® in-house expertise and wide selection of products and services to reduce risk and improve regulatory compliance, performance management and operational efficiency. For more information, visit JJKeller.com.
For more information, contact:
Mary Borsecnik
Corporate Marketing Communications Specialist
J. J. Keller & Associates, Inc.
1-800-843-3174, ext. 7050
Email: mborsecnik@jjkeller.com