Back to Press Releases
FOR IMMEDIATE RELEASE (June 28, 2016)
New Multi-User Functionality Reduces ELog Costs for Fleets
J. J. Keller & Associates, Inc. introduces multi-user functionality and construction rule set to Electronic Logging System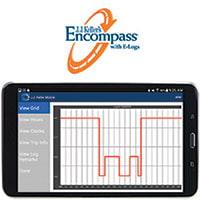 Neenah, WI - J. J. Keller & Associates, Inc. has developed an easier, more cost-efficient method for maintaining multiple driver Hours of Service records electronically with the creation of multi-user functionality within the J. J. Keller ELDs.
"Multi-user functionality allows fleets to track HOS data for multiple drivers at a fraction of the cost," said Amy Daley, senior manager of transport products for J. J. Keller. "With this feature, multiple mobile users can share one common device, reducing the capital outlay and recurring monthly expenses related to procuring, supporting and maintaining multiple devices."
The new functionality is particularly beneficial for industries with drivers who frequently transition from vehicle to vehicle, including hyrail, oil and gas, logging, utility and construction.
J. J. Keller has also expanded its electronic logging system to include the construction Hours of Service rule set. For drivers whose primary role is to maintain the supply of construction equipment, construction maintenance vehicles, or pavement materials to and from an active construction site, this exemption allows a 24-hour restart instead of 34 hours.
"Construction companies understand their business isn't like over-the-road truck operations. That's why they expect a flexible and compliant Hours of Service solution from their ELog provider that also takes advantage of operational efficiencies in line with FMCSA rules," said Tom Bray, senior transportation editor for J. J. Keller. "Expanding the number of rule sets in our electronic logging system allows us to support the compliant use of exemptions by drivers in each specific segment of the industry."
About J. J. Keller & Associates, Inc.
Since its beginning as a one-man consulting firm in 1953, J. J. Keller & Associates, Inc. has grown to become the most respected name in safety and regulatory compliance. Now over 1,400 associates strong, J. J. Keller serves over 560,000 customers — including over 90% of the Fortune 1000® companies. The company's subject-matter expertise spans nearly 1,500 topics, and its diverse solutions include ELogs and mobile technology; training viaonline courses, streaming video or DVD; online management tools; managed services; consulting services; online and print publications; forms and supplies.
Transportation professionals rely on J. J. Keller in-house expertise and wide selection of products and services to reduce risk and improve regulatory compliance, performance management and operational efficiency. For more information, visit JJKeller.com.
For more information, contact:
Mary Borsecnik
Corporate Marketing Communications Specialist
J. J. Keller & Associates, Inc.
1-800-843-3174, ext. 7050
Email: mborsecnik@jjkeller.com