Back to Press Releases
FOR IMMEDIATE RELEASE (May 5, 2016)
J. J. Keller & Associates, Inc. Further Extends its Intellectual Property Portfolio around Hours-of-Service Technology
Latest patent improves electronic logging systems that track critical vehicle data from light and medium duty trucks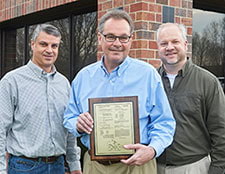 Neenah, WI - J. J. Keller & Associates, Inc. announced today that the United States Patent and Trademark Office has issued U.S. Patent No. 9,299,200. The patent further extends the ability to collect vehicle data and report hours of service for drivers of typical light- and medium-duty trucks which utilize OBD-II technology.
"We are focused on providing our customers with flexible choices to effectively transition to electronic logging solutions," said Rustin Keller, executive vice president and chief operating officer for J. J. Keller & Associates, Inc. "We believe in continual innovation, and this new patent is a reflection of our dedication to investing in and improving on electronic logging technology."
The recent FMCSA mandate calls for the electronic generation of long-haul driver log book data and hours of service reports. This patent covers an enhancement to J. J. Keller® technology for generating and properly logging the data associated with driving events, such as vehicle starts and stops while allowing for longer operational time.
This is the third patent issued to J. J. Keller in advancing hours of service technology with many additional patent applications pending. J. J. Keller & Associates, Inc. offers a flexible and broad portfolio of electronic logging solutions to drive efficiency and cost savings on multiple levels for carriers of all sizes.
About J. J. Keller & Associates, Inc.
Since its beginning as a one-man consulting firm in 1953, J. J. Keller & Associates, Inc. has grown to become the most respected name in safety and regulatory compliance. Now over 1,400 associates strong, J. J. Keller serves over 560,000 customers — including over 90% of the Fortune 1000® companies. The company's subject-matter expertise spans nearly 1,500 topics, and its diverse solutions include ELogs and mobile technology; training via online courses, streaming video or DVD; online management tools; managed services; consulting services; online and print publications; forms and supplies. For more information, visit JJKellerelogs.com.
For more information, contact:
Mary Borsecnik
Corporate Marketing Communications Specialist
J. J. Keller & Associates, Inc.
1-800-843-3174, ext. 7050
Email: mborsecnik@jjkeller.com