Back to Press Releases
FOR IMMEDIATE RELEASE (April 15, 2016)
J. J. Keller & Associates, Inc. and J. J. Keller Foundation Develop Educational and Awareness-building Materials for Local Health Clinic
Advertising and Marketing Associates Participate in Weekend Give Camp for Partnership Community Health Center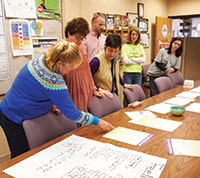 Neenah, WI - With over 93,000 people in Calumet, Outagamie, and Winnebago counties living at or near the federal poverty level, Partnership Community Health Center's mission to serve the impoverished is an important one.
Thanks to a weekend Give Camp sponsored by the J. J. Keller Foundation and volunteers from J. J. Keller & Associates, Inc., the organization has new educational and awareness-building materials to help them reach out to those in need.
"Words cannot express how touched I am that J. J. Keller associates were willing to give up their weekend to create materials that will make such a difference in the lives of our community's most vulnerable," said Kristene Stacker, executive director at Partnership Community Health Center. "We will be able to use these materials throughout our organization and beyond the reach of this project for many years to come."
The materials will help raise awareness of the new primary care clinic at the COTS Men's Campus in Appleton, Wisconsin. The materials will also educate patients on when to go to the clinic versus the emergency room, and provide tools for patients to keep track of health care concerns.
"Once again, the associates of J. J. Keller have demonstrated incredible generosity by using their time and talents to support such a deserving organization," said Robert Larsen, senior director of sales and marketing integration for J. J. Keller & Associates, Inc.
The J. J. Keller Foundation provided the funds needed for the Give Camp.
"By supporting Give Camp, the J. J. Keller Foundation is able to assist local nonprofits in another valuable way — one that extends beyond a simple grant. This impacts not just the recipient organizations, but also a broader community," said Mary Harp-Jirschele, executive director of the J. J. Keller Foundation. "I know that the associates who were involved in the creative work have a newfound appreciation for not just the plight of those in need in our region, but the incredible organizations that are providing services."
About J. J. Keller & Associates, Inc.
Since its beginning as a one-man consulting firm in 1953, J. J. Keller & Associates, Inc. has grown to become the most respected name in safety and regulatory compliance. Now over 1,400 associates strong, J. J. Keller serves over 420,000 customers — including over 90% of the Fortune 1000® companies. The company's subject-matter expertise spans nearly 1,500 topics, and its diverse solutions include E-Logs and mobile technology; training via online courses, streaming video or DVD; online management tools; managed services; consulting services; online and print publications; forms and supplies.
Professionals in transportation, manufacturing, hazardous materials, construction, and human resources rely on J. J. Keller® in-house expertise and wide selection of products and services to reduce risk and improve regulatory compliance, performance management and operational efficiency. For more information, visit JJKeller.com.
About J. J. Keller Foundation
Founded in 1990, the J. J. Keller Foundation is a private, family foundation that provides charitable funding to many worthwhile groups within the local community. Partnering up to spread more good, the J. J. Keller Foundation has supported a number of collaborations that help maximize its impact on organizations from Green Bay to Appleton to Oshkosh. These partnerships have addressed children's behavioral health, food pantries and a host of other programs that work to meet basic needs. For more information, go to www.jjellerfoundation.org.
About Partnership Community Health Center
The mission of Partnership Community Health Center is to improve the health status of the medically underserved by providing comprehensive primary care services. Founded as a free clinic in 1997, PCHC has grown into a full-service medical provider for patients living in Outagamie, Winnebago, and Calumet counties. The not-for-profit community health center offers primary, dental and behavioral health care, as well as outreach and enrollment. In 2015, over 14,000 low-income patients received care at PCHC, and the demand for affordable care among the area's underserved and impoverished is growing. For more information, call 920-731-7445 or visit www.partnershipchc.org.
For more information, contact:
Mary Borsecnik
Corporate Marketing Communications Specialist
J. J. Keller & Associates, Inc.
1-800-843-3174, ext. 7050
Email: mborsecnik@jjkeller.com