Back to Press Releases
FOR IMMEDIATE RELEASE (April 5, 2016)
Free Resource Helps Fleets Understand the New Supporting Documents Requirements
Complimentary Whitepaper Expands Library of E-Log Resources from J. J. Keller & Associates, Inc.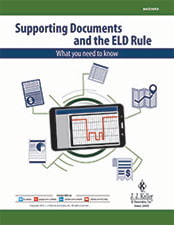 Neenah, WI - One of the challenges transportation professionals face under FMCSA's ELD final rule is understanding and complying with section §395.11, which outlines changes to the collection, use and retention of supporting documents.
"Under the ELD rule, the changes to the supporting documents requirements are significant," said Richard Malchow, transportation management editor for J. J. Keller & Associates, Inc. "Carriers should use the time between now and the ELD mandate's December 2017 compliance deadline to prepare for this change. That includes reviewing current policies and procedures and beginning to adapt them to meet the new requirements. But the first step is understanding those requirements."
To help carriers understand what the FMCSA will require of them and their drivers, J. J. Keller has created a complimentary new whitepaper titled "Supporting Documents and the ELD Rule: What You Need to Know." The whitepaper includes a summary of the revised supporting documents requirements, explains the five types of supporting documents, covers exemptions to the supporting documents provisions, presents a "day in the life" example of a driver collecting supporting documents, and explains the log auditing process using those documents.
To request J. J. Keller's free "Supporting Documents and the ELD Rule: What You Need to Know" whitepaper, visit JJKeller.com/SupportDocs or call 855-693-5338.
J. J. Keller is also able to help carriers comply with the new supporting documents requirements via its Encompass® ELog system. According to the company, Encompass enables the electronic entry of document data; the validation of duty status using several types of expense receipts; and the running of falsification audits to compare supporting documents to the duty status for the corresponding date, time, and driver. Additional Encompass information can be found at JJKeller.com/ELogs.
About J. J. Keller & Associates, Inc.®
Since its beginning as a one-man consulting firm in 1953, J. J. Keller & Associates, Inc. has grown to become the most respected name in safety and regulatory compliance. Now over 1,400 associates strong, J. J. Keller serves over 420,000 customers — including over 90% of the Fortune 1000® companies. The company's subject-matter expertise spans nearly 1,500 topics, and its diverse solutions include E-Logs and mobile technology; training via online courses, streaming video or DVD; online management tools; managed services; consulting services; online and print publications; forms and supplies.
Transportation professionals rely on J. J. Keller® in-house expertise and wide selection of products and services to reduce risk and improve regulatory compliance, performance management and operational efficiency. For more information, visit JJKeller.com.
For more information, contact:
Mary Borsecnik
Corporate Marketing Communications Specialist
J. J. Keller & Associates, Inc.
1-800-843-3174, ext. 7050
Email: mborsecnik@jjkeller.com