Back to Press Releases
FOR IMMEDIATE RELEASE (April 6, 2016)
Free Regulatory Compliance Seminars and Webcasts Offered
J. J. Keller & Associates, Inc. to Share Regulatory Expertise with Companies at Educational Events — Announces Expanded Calendar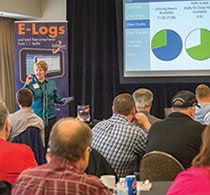 Neenah, WI - To assist companies in complying with government regulations, J. J. Keller & Associates, Inc. will be hosting nearly 70 complimentary educational events from April through June of this year.
"Our free seminars and webcasts reflect J. J. Keller's mission to make it easier for companies to comply with complex regulations in the areas of OSHA, EPA, DOT, DOL and related state agencies," said Lisa Karpinski, senior vice president of marketing at J. J. Keller.
Some of the topics covered at these events will include Hours of Service, E-Logs, and IFTA for transportation professionals; environmental compliance, OSHA-required paperwork, and written safety plans for workplace safety professionals; and FMLA court cases, drug-free workplaces, and litigation prevention for human resources professionals.
"Our seminars are full-day, interactive sessions taking place around the country," Karpinski added. "They provide a unique opportunity for attendees to learn in depth about the latest in regulatory compliance and related best practices from our subject-matter specialists. Our specialists also deliver webcasts covering topical compliance issues, which allows attendees to receive the latest information and insights from the convenience of their own office."
J. J. Keller has already hosted over 50 educational events during the first quarter of 2016, and will continue hosting these types of events on an ongoing basis. To view a calendar of J. J. Keller's upcoming free compliance seminars and webcasts, visit JJKeller.com
About J. J. Keller & Associates, Inc.
Since its beginning as a one-man consulting firm in 1953, J. J. Keller & Associates, Inc. has grown to become the most respected name in safety and regulatory compliance. Now over 1,400 associates strong, J. J. Keller serves over 420,000 customers — including over 90% of the Fortune 1000® companies. The company's subject-matter expertise spans nearly 1,500 topics, and its diverse solutions include E-Logs and mobile technology; training via online courses, streaming video or DVD; online management tools; managed services; consulting services; online and print publications; forms and supplies.
Professionals in transportation, manufacturing, hazardous materials, construction, and human resources rely on J. J. Keller® in-house expertise and wide selection of products and services to reduce risk and improve regulatory compliance, performance management and operational efficiency. For more information, visit JJKeller.com.
For more information, contact:
Mary Borsecnik
Corporate Marketing Communications Specialist
J. J. Keller & Associates, Inc.
1-800-843-3174, ext. 7050
Email: mborsecnik@jjkeller.com