Press Room
News Releases
FOR IMMEDIATE RELEASE (June 30, 2015)
Fox Cities Housing Coalition reveals new website designed and built by J. J. Keller volunteers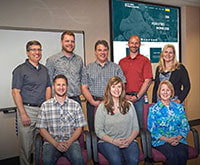 Neenah, WI - Neenah, WI — With more than 350 people homeless each night in the Fox Cities, the Fox Cities Housing Coalition's (FCHC) mission to assist the homeless and those at risk is an important one. Now, with the help of a new website, the agency can do a better job of educating the community on this critical issue and reaching out to those in need.
The new website at www.fchc.net was designed and built by J. J. Keller technology associates as part of the company's 2015 Give Camp, in partnership with the J. J. Keller Foundation. During this weekend tech event, J. J. Keller developers, quality assurance analysts, project managers, web designers, and marketing professionals worked feverishly to completely revamp the website, giving it improved functionality and an updated look.
"The result of the Give Camp was incredible," said Chris Lashock, President of FCHC. "The updates to our website were impressive, especially knowing that it was done in a weekend. We are extremely thankful to J. J. Keller & Associates, Inc.® and the J. J. Keller Foundation for selecting us as the recipient of the 2015 Give Camp."
The Give Camp was an opportunity for volunteers among J. J. Keller's 170+ technology professionals to give back to their community.
"Give Camp was a wonderful way to combine the talents of J. J. Keller associates with the giving strategy of the Foundation," said Mary Harp-Jirschele, Executive Director of the J. J. Keller Foundation. "This was the perfect opportunity for associates to give back to the community in which they live, work, and play. The Foundation is always looking for out-of-the-box ways to benefit nonprofit agencies in our community."
The Fox Cities Housing Coalition is a group of 26 housing-related providers committed to ensuring decent, affordable housing. The coalition assists individuals as they progress from emergency shelter through transitional housing to affordable long-term housing. A sampling of coalition member agencies includes Homeless Connections, Fox Valley Warming Shelter, Harbor House, Greater Fox Cities Area Habitat for Humanity, and COTS.
"It's a great feeling to know that we've helped such a deserving organization," said J. J. Keller Executive Vice President & COO Rustin Keller. "I'm very proud that our technology associates were able to use their skills in such a meaningful way, and I look forward to opportunities for our associates to do more of the same."
To view J. J. Keller's 2015 Give Camp video, visit youtu.be/TztD5mUAI0s
About J. J. Keller & Associates, Inc.
Since its beginning as a one-man consulting firm in 1953, J. J. Keller & Associates, Inc.® has grown to become the most respected name in safety and regulatory compliance. Now over 1,300 associates strong, J. J. Keller serves over 420,000 customers — including over 90% of the Fortune 1000® companies. The company's subject-matter expertise spans nearly 1,500 topics and its diverse solutions include training via online courses, streaming video or DVD; online management tools; managed services; consulting services; compliance manuals and instructional publications; E-Logs and mobile technology, forms and supplies.
Safety professionals rely on J. J. Keller® in-house expertise and its wide selection of products and services to reduce risk and improve regulatory compliance, performance management and operational efficiency. For more information, visit JJKeller.com.
About J. J. Keller Foundation, Inc.
Founded in 1990, the J. J. Keller Foundation, Inc. is a private, family foundation that provides charitable funding to many worthwhile groups within the local community. Partnering up to spread more good, the J. J. Keller Foundation has supported a number of collaborations that help maximize its impact on organizations from Green Bay to Appleton to Oshkosh. These partnerships have addressed children's behavioral health, food pantries and a host of other programs that work to meet basic needs. For more information, go to www.JJKellerfoundation.org.
For more information, call 800-327-6868.