Back to Press Releases
FOR IMMEDIATE RELEASE (July 29, 2016)
Department of Labor Releases Two New Postings Required August 1
J. J. Keller & Associates, Inc.® Update Service Helps Employers Comply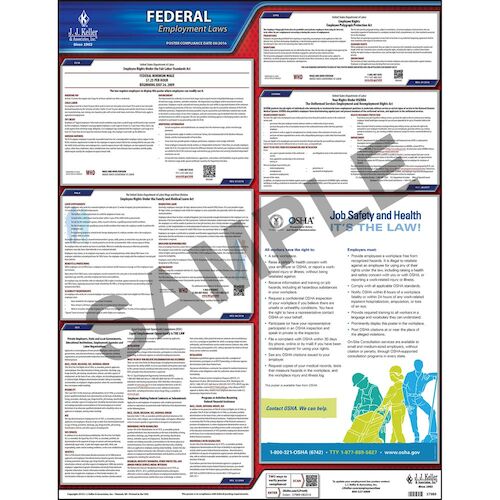 Neenah, WI — As of August 1, 2016, employers must post new Fair Labor Standards Act (FLSA) and Employee Polygraph Protection Act (EPPA) postings.
The new postings are the result of an increase in fines under the Federal Civil Penalties Inflation Adjustment Act Improvements Act of 2015.
The Department of Labor has removed penalty amounts from both the FLSA and EPPA postings. The FLSA posting also shows the minimum wage, but the revised penalties, rather than a minimum wage change, are the reason for a new poster. In addition, a new section concerning the rights of nursing mothers has been added to the FLSA poster.
"It's critical for employers to stay on top of mandatory posting changes like these," said Terri Dougherty, human resources expert at J. J. Keller & Associates, Inc. "A business with outdated posters could be fined and is at greater risk of an employee lawsuit."
To help employers stay current with labor law posting changes, J. J. Keller & Associates, Inc., a leader in safety and compliance, offers its State and Federal Labor Law Poster Update Service. Subscribers to this service are sent updated posters automatically whenever there is a mandatory change.
For more information on J. J. Keller's labor law posters and update service, visit JJKeller.com/laborlaw.
About J. J. Keller & Associates, Inc.
Since its beginning as a one-man consulting firm in 1953, J. J. Keller & Associates, Inc. has grown to become the most respected name in safety and regulatory compliance. Now over 1,400 associates strong, J. J. Keller serves over 560,000 customers — including over 90% of the Fortune 1000® companies. The company's subject-matter expertise spans nearly 1,500 topics, and its diverse solutions include training via online courses, streaming video or DVD; online management tools; managed services; consulting services; online and print compliance manuals and instructional publications; ELogs and mobile technology, forms and supplies.
HR professionals rely on J. J. Keller's in-house expertise and wide selection of products and services addressing core HR topics — including FMLA, ADA, HIPAA, FLSA, and employment law — to reduce risk and improve regulatory compliance, and performance management. For more information, visit JJKeller.com.
For more information, contact:
Mary Borsecnik
Corporate Marketing Communications Specialist
J. J. Keller & Associates, Inc.
1-800-843-3174, ext. 7050
Email: mborsecnik@jjkeller.com