Back to Press Releases
FOR IMMEDIATE RELEASE (August 30, 2016)
CVSA Brake Safety Week Fast Approaching
J. J. Keller & Associates, Inc. Offers Whitepaper To Help Motor Carriers Prepare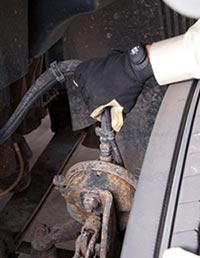 Neenah, WI — The Commercial Vehicle Safety Alliance (CVSA) will conduct its annual Brake Safety Week September 11-17, 2016. During the event, commercial motor vehicle inspectors will focus on brake system compliance.
"While Brake Safety Week is all about inspections and compliance, it's important to remember why the brakes on a commercial vehicle are so critical," said Tom Bray, transportation management expert at J. J. Keller & Associates, Inc. "Brakes are your drivers' primary tools for avoiding or minimizing accidents. If they are not operating correctly, which is confirmed through maintenance and inspections, your vehicles could end up in serious crashes that could have been avoided."
Law enforcement will check large trucks and buses for loose or missing parts; air or hydraulic fluid leaks; worn linings, pads, drums or rotors; and other faulty brake system components. Defective or out-of-adjustment brakes will result in the vehicle being placed out of service. Brake violations resulted in 43% of all out-of-service violations during CVSA's Roadcheck inspection event in June 2015.
In recognition of Brake Safety Week, J. J. Keller & Associates, Inc. is offering a free whitepaper, The Importance of Brakes: Key Components, Inspection and Maintenance. The whitepaper explains how air brakes function and details the measures necessary to keep brake systems in good condition.
About J. J. Keller & Associates, Inc.
Since its beginning as a one-man consulting firm in 1953, J. J. Keller & Associates, Inc. has grown to become the most respected name in safety and regulatory compliance. Now over 1,400 associates strong, J. J. Keller serves over 560,000 customers — including over 90% of the Fortune 1000® companies. The company's subject-matter expertise spans nearly 1,500 topics, and its diverse solutions include ELogs and mobile technology; training via online courses, streaming video or DVD; online management tools; managed services; consulting services; online and print publications; forms and supplies.
Transportation professionals rely on J. J. Keller's in-house expertise and wide selection of products and services to reduce risk and improve regulatory compliance, performance management, and operational efficiency. For more information, visit JJKeller.com.
For more information, contact:
Mary Borsecnik
Corporate Marketing Communications Specialist
J. J. Keller & Associates, Inc.
1-800-843-3174, ext. 7050
Email: mborsecnik@jjkeller.com