J. J. Keller is pleased to provide safety and compliance resources to CNA policyholders at a 10% savings* on select solutions.
Shop Now
Simply click on a link below to order.
Keep your employees safe and in compliance with our vast selection of safety and compliance solutions including training, supplies, forms, reference books and much more.

Provides safety management system tools and applications to help drive performance, reduce risk, and ensure compliance.

Helps effectively manage operations, personnel, and safety programs.

Online service makes leave tracking easier while complying with the latest federal & state regulations.

Makes it easy to train your employees on their schedules.

Get unlimited access to J. J. Keller's video training library.

Choose from over 60 different publications that cover regulations for OSHA, DOT, EPA, DOL and other agencies.
Questions? Contact:
Kathy Schmidt
Sales Representative - Resale Partners
J. J. Keller & Associates, Inc.
3003 W. Breezewood Lane
Neenah, WI 54956
1-800-843-3174, ext. 2976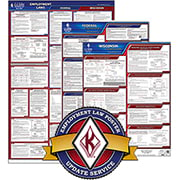 FREE Labor Law Posters with a 1-year labor law poster update service subscription.
Order posters now!
---
About J. J. Keller
For more than 60 years, J. J. Keller has helped people across a broad spectrum of industries reduce the risk and liability associated with running a business. We offer a wide variety of solutions for workplace safety, transportation, human resources, construction, general industry, and more. Thousands of companies rely on us to help manage safety, training, and regulatory compliance responsibilities.
*Discount does not apply to existing offer discounts or current subscribers of subscription-based services. Savings will be reflected at checkout. See full discount details.