Free Workplace Bullying and Violence Whitepaper
Workplace Bullying and Violence: What You Need to Know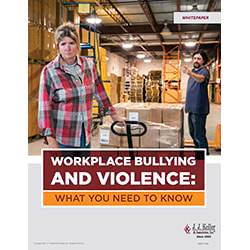 While disagreements in the workplace are inevitable, you need to be prepared to step in should differences of opinion escalate into something more serious.
Written by J. J. Keller's in-house HR experts, our FREE Workplace Bullying & Violence whitepaper delivers proven strategies for identifying, documenting, and addressing unacceptable employee conduct. You'll learn when and where these incidents are most likely to occur, and what you can do to minimize their impact and support your employees.
Fill out the form below to download your FREE copy today!