Free Whitepaper
Mandated COVID-19 Vaccines and Testing: 10 Things Employers Need to Know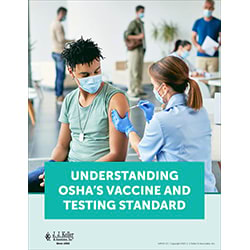 Is your business ready for a potential OSHA mandate regarding COVID-19 vaccination and testing for employees? President Biden recently announced that private employers with 100 or more employees will need to ensure that employees are either vaccinated or tested for COVID-19 weekly before coming to work.
Many details about this policy and its implementation remain unclear, but there are several actions businesses can take right now to prepare. This whitepaper contains answers to 10 key questions about this issue, including:
When the rule may go into effect
Providing medical accommodations or religious exemptions
States with their own OSHA-approved Plans
And more
Fill out the form to download your FREE Mandated COVID-19 Vaccines and Testing: 10 Things Employers Need to Know whitepaper.