No Surprises: The Fleet Manager's Step-By-Step Guide for DOT Roadside Inspections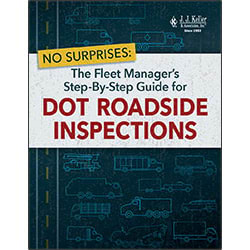 No matter what type of carrier you are, the goal of a roadside inspection is always no violations.
Not only do violations and out-of-service orders cause the FMCSA to look more closely at your company, they negatively impact your operation through:
A higher ISS score, which can trigger more inspections;
Lost revenue due to fines and unscheduled downtime;
Lost business caused by your publicly accessible SMS data; and
Increased litigation risk and higher insurance rates.
With 1 million driver violations and 3.8 million vehicle violations per year, preparing your drivers and vehicles for roadside inspections offers a significant ROI by boosting your fleet's safety and productivity.
In this DOT Roadside Inspection guide, our subject matter experts walk you through a roadside inspection, from selection to completion. They detail each inspection step, what the officer will ask for and look at, and expectations for your driver and unit. Download your free copy today!