Free Whitepaper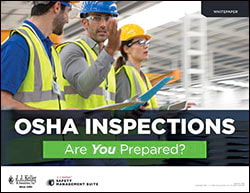 OSHA Inspections: Are You Prepared?
On average, OSHA conducts about 35,000 inspections each year. Would your workplace stand up to inspection?
This free whitepaper walks you through the processes of inspection, citation and preparation to make sure you are truly prepared.
Fill out the form to download your FREE whitepaper – OSHA Inspections.