Free Whitepaper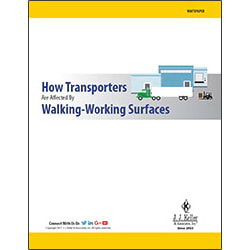 How Transporters Are Affected by Walking-Working Surfaces
When a truck driver is in a truck, Department of Transportation (DOT) regulations apply. However, when a driver is in a facility, Occupational Safety and Health Administration (OSHA) regulations apply. This means that the recent Walking-Working Surfaces final rule, which OSHA finalized on November 18, 2016, regulates truck drivers in certain situations.
Written by J. J. Keller Editor Judie Smithers, this free whitepaper summarizes the new Walking-Working Surfaces requirements as they apply to the transportation industry, including:
General requirements
Fall protection for loading docks, dockboards and service pits
Training
Critical compliance dates
And more!
Fill out the form to download your FREE whitepaper - How Transporters Are Affected by Walking-Working Surfaces.