Free Inspections Whitepaper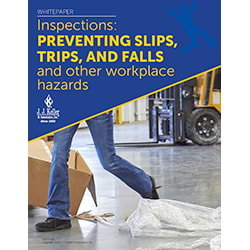 Inspections: Preventing Slips, Trips, and Falls and Other Workplace Hazards
Inspections are a critical tool to help you find and fix hazards before OSHA does. Even when not required, regular inspections of your workplace can help keep employees safe, protect your bottom line, and strengthen your reputation as a safety-conscious employer.
J. J. Keller's FREE Inspections: Preventing Slips, Trips, and Falls and Other Workplace Hazards whitepaper covers inspection requirements and best practices across a wide range of industries, including:
Preparation
Checklists
Corrective action
Recordkeeping
And more!
Fill out the form to download your FREE copy today!