Free Driver Wellness Whitepaper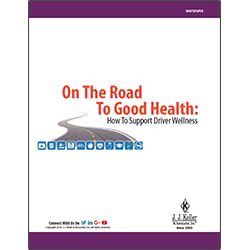 On The Road To Good Health: How To Support Driver Wellness
There are few workers who face as many wellness stumbling blocks as those who spend their days on the road.
Seven in 10 professional truck drivers are obese, compared to 3 in 10 Americans, according to the Department of Health and Human Services.
In this whitepaper, Bob Perry, Founder of the company Rolling Strong and Chair of the American Trucking Associations' Safety Management Council's Health & Wellness Working Group, shares tips on driver wellness strategies like how to make healthy choices on the road.
Written by J. J. Keller Editor Terri Dougherty, the whitepaper covers:
Steps to move toward wellness
Benefits of having healthy drivers for employers
How to emphasize the positives of a health program
And more!
Fill out the form to download your FREE whitepaper - On The Road To Good Health: How To Support Driver Wellness.