Free Whitepaper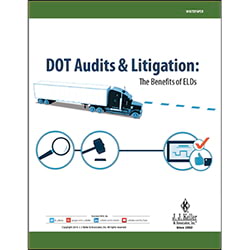 DOT Audits & Litigation: The Benefits of ELDs
Two events strike fear into the heart of any carrier — an audit or litigation following a crash. Increasingly, electronic logging devices (ELDs) and Automatic Onboard Recording Devices (AOBRDs) provide data that will be used during these events.
Written by Senior J. J. Keller® Transportation Editor Tom Bray, this whitepaper discusses:
The processes involved in auditing and litigation
How the data from the electronic logging system will be used
How the data from an electronic logging system can either help or hurt you during litigation or an audit
How to make sure the data ends up helping you
Fill out the form to download your FREE DOT Audits & Litigation whitepaper.